ANON SALON
arouses
Valorous Visions of Dreams Awakened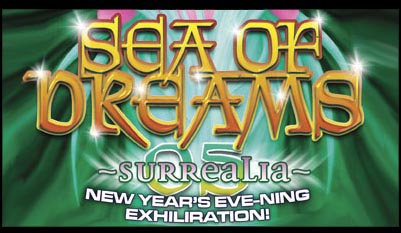 Friday, December 31, 2004
8:30pm - 4:30am

In the vol-luminous
REGENCY CENTER BALLROOMS
1300 Van Ness @ Sutter St.
SAN FRANCISCO, CA 94109

Your Costumed Participation is VERY Encouraged!

PURCHASE ADVANCE TICKETS @ www.anonsalon.com

Traverse Five Dimensions of Radiant Sur-realities!
PRISM PALACE/ An AbunDance of Refractions
• HAMSA LILA (World Trance Groove)
• WISDOM (Conscious Hip-Hop)
• KAN'NAL (Gypsy Tribal Rock)
• VAU De VIRE SOCIETY (Naughty Aerial Circus)
• LUNAGROOVE (Soul-Live-Tronica)
• KID BEYOND (Beatbox Vocalchemy)
• XENO (Therotica Dance)
• TRIPPY NICK (XaleX)
• RANDOM RAB (XaleX/El Circo)
• VIRTUAL WORLD STUDIOS (Telepresence)
• COSMIC GOO (Psyche-Visuals)
EMERALD ESCAPADE/ Cool Flamin' House
• GARTH (Wicked)
• ELLEN FERRATO (Sugar)
• JENÖ (Wicked)
• LATE NIGHT SNEAKY w/ Irina M.(Live 'Lectro Jive)
• GOLDILOX (Brass Tax)
• MYSTIC FAMILY CIRCUS (Stiltifications)
• DR. FRIENDLY (Interactive Cartoon Wall)
• RECURSION VIDEO LABS (Analog Infinities)
PURPLE CIRKUS/ Deep Breaks and Mind Bends
• LAIRD (Get YER Freak On!)
• ADAM OHANA (Get Freaky)
• ADNAN (Lush)
• DOV (Muti Music)
• ZACK DARLING (DecaDance)
• RETINAL CIRKUS (VideoFusions)
THE SCARLET SECRET/ Illuminated Cabaret
• ROSIN COVEN (Pagan Lounge Ensemble)
• BREAKFAST w/ Eenor (Carnival Funk w/ Friends)
• XOX BURLESQUE (Sultry Divas)
• RACHEL BRICE & THE INDIGO (Belly Dance)
• RUBY IRON & KNOCKOUT SWING TRIO (Jumpin' Jive)
• TOBIAS THE SWORDSWALLOWER
• ORBITAL BLISS (Hoopers)
• MAESTRO FOLEOLEO (Pipe Organ Magic)
• LIMINAL (Clown Fash-Un Show Offs!)
THE AMBER ORB/ Oui the World Casbah
• FUZZY PHILIPPE'S FABUFLUFF
• COLOR GIRL (Decorable Wonders)
• RENA & Friends (Live Electro-World)
• KASHIA (Wow!/Anon)
• CYBERVIXEN (Anon)
• NEPTUNE (SpritTech)
• THE KID (AEON)
• MIA NARELL (Graphic Closet)
• ASTROLOGY 3D (Planetary Fly-Thru)
• VIRTUAL PLAYA (Burning Man Flight Sim)
PLUS Expanding Bouquets of Surrealistica, Art & Installation Magic!
PLUS Rich Coffees & Teas, Good Snacks, Elixr Bar, Mad Blinky Lights and more!

PLUS a bi-directional hi-res webcast to our sister event in Los Angeles

Come dressed as your dream. Share your dream with others!

ADVANCE TICKETS: $80.00 @ http://www.anonsalon.com
(21 & OVER)
Tickets also available at the door, on the day (1pm-6pm) and night of the show.

Or in person at StreetLightRecords.COM
PLEASE, DON'T CALL OUTLETS REQUESTING INFO ON THE EVENT!
* SAN FRANCISCO - 3979 24th Street (near Noe)/ 1.888.682.3550
* SAN JOSE - 980 South Bascom Avenue/ 1.888.330.7776
* SANTA CRUZ - 939 South Pacific Avenue/ 1.888.648.9201

Or @ Distractions - 1552 Haight St./ 415.252.8751

Or @ Famous For Our Look - MILL VALLEY - 96 Throckmorton/ 415.388.2550

Or @ Skills DJ Workshop - BERKELEY - 2566A Telegraph / 510.704.9876

(Two Entrances, Two Coat Checks, Lots of Parking & Public Transport)

Special hotel deal @ the Cathedral Hill Hotel (1 block from the Regency). Mention "Anon Salon/Sea oF Dreams" and get a rate of $135 plus tax. Call the hotel at 800. 622. 0855 to make reservations.

SEA OF DREAMS INFO: 415.864.1238 - WWW.ANONSALON.COM