ANON SALON
opens the big tent & presents
a heart-thumping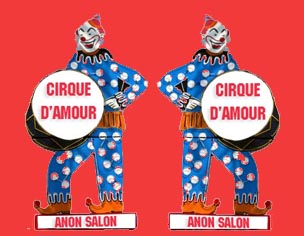 SATURDAY, FEBRUARY 18, 2006

@ the colossally re-designed
ANON GALLERY
285 9th St. (@ Folsom/SF)
10pm UNTIL LATE!

Suggestive Donations:
$10 b4 10:30
$15 - Looking Cirqularious
$20 - Not the Least Bit Clowny

http://www.anonsalon.com/feb06
Featuring...

MARDI GRASSERIE
• JAY (Just Jay)
• ALIA (13 MoonTribe, RainDance)
• 8BALL (Space Cowboys)

ARIELLA!
• ANDREW KELSEY (Blue Collar, The Fool)
VS. BEN DAVIS (Tweekin Records)
• KITTY-D (Troubled Youth, Beat Church)
VS. MOZAIC (13 MoonTribe,Troubled Youth)
• XOX BURLESQUE STREET STRUT
Plus Special Guests!

SIDE SHOW!
• M.S. HOVE/ World of Cake
• HERMAN PRIVETTE/ ANON FoToS
• CLAY CHOLLAR/
Airbrushed Booty Parlor
• OCEANA/ Painted Faces
• DEE DEE RUSSELL/ Goddess of Pink
• DIY CIRCUS COLLAGE
• SEA OF DREAMS SLIDESHOW (Ron Halbert)
• SEA OF DREAMS VIDEO
• ANON SWOONY KARAOKE
• MICHAEL'S LIGHT TOYS
• LIGHTN' WIRE
• The Newly Re-Designed
ROOFTOP GARDEN
& MORE!
<.. Back to Anon Top