1. WHALE DREAMERS FUNDRAISER/ ROSANNA FERRERA - 7.28.18
2. RICHARD HABIB ANNIVERSARY CELEBRATION - 7.28.18
3. DUSTFISH BM BENEFIT - 8.4.18
4. BAY AREA BURLESQUE CALENDAR
5. CLUBFOOT ORCHESTRA GREATEST HITS - 9.15.18
6. JAZZ MAFIA ACCOMPLICES/ SFJAZZ - 12-9.18
7) ANON EVENTS - Now!
8) YARD DOGS ROAD SHOW MOVIE STREAMING - Now!



1. WHALE DREAMERS FUNDRAISER/ ROSANNA - 7.28.18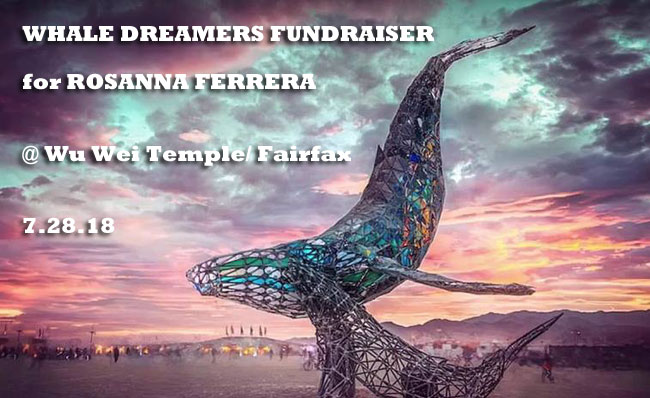 Whale Dreamers Storytelling Journey & Fundraiser

A special evening for the most dear, the most gifted
ROSANNA FERRARA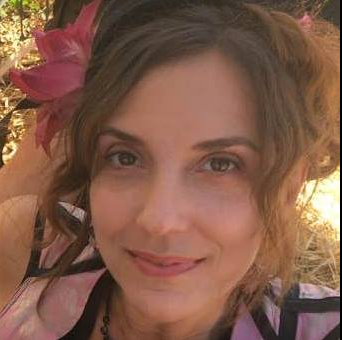 Saturday, July 28, 2018
7 PM - 10 PM
@ Wu Wei Tea Temple
1820 Sir Francis Drake Blvd.
Fairfax, CA 94930
MAP

FB EVENT: https://www.facebook.com/events/352531708610177/
DONATION SITE: http://rosannaferrera.wixsite.com/msboobwell-blog
WEBSITE: http://naturalwaysinstitute.com

Come gather together in circle, let us share with you legends and tales that began in the starry past… far far away… People of the world, the ancestor whales are calling... Join us as we enter the dreamtime journey of the great whale avatars. The few remaining great ones call to us to dream with them once again… come swim in the sea of visions with our ancestor whales who guide us to serve the family tree of life in union with our Earthly Mother.

Join Storyteller and Enchantress - ROSANNA FERRERA with Celestial Harpist and Sound Healer - CHRISTINE TULIS And Legendary Didgeridoo Player - STEPHEN KENT

Storytelling will be followed by the inspiring loops, beats & lyrics of MADHU ANZIANI

This will be an extraordinary evening of music, and mythic imagination in the comfort and delicious intimacy of the Wu Wei Tea Temple.

Silent Auction, Raffle, Clothing and Special Items will be available for sale.

All proceeds will benefit Rosanna Ferrera's continued recovery and treatment of breast cancer.
2. RICHARD HABIB ANNIVERSARY CELEBRATION - 7.28.18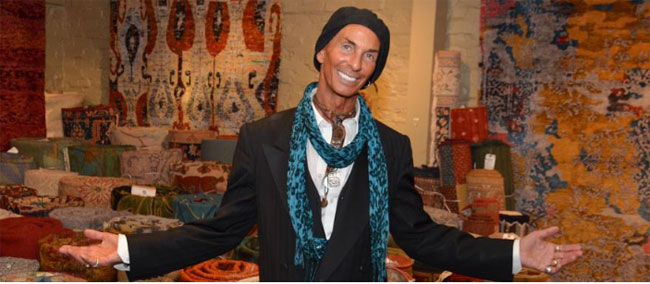 Richard Habib Anniversary Exhibition Celebration + Party

Saturday, July 28, 2018

@ Alexanders Artisan Rugs
1 El Paseo Lane
Mill Valley, CA 94941
- Open House 12-5pm
- VIP-Cocktail Reception 6pm -9pm

FB EVENT: https://www.facebook.com/events/2143174495938277/

Exhibition + Anniversary Celebration & Cocktail Reception
@ our Historic El Paseo Building Showroom
in Downtown Mill Valley ~ Sunnyside Entrance

Our 2nd year at our beautiful and historic El Paseo Building showroom
after 25 years at the SF Design Center

This also marks our 27 yeasr since establishing Alexander's Rugsin July of 1991
& 40 years (!) in the Rug Business.

10% of profits from any Purchases that evening will be donated to Music Heals International.
3. DUSTFISH FUNDRAISER - 8.4.18



Gritt Art hosts CLEVER-DUST-POO!

A BM Fundraiser for Cleverland, Dustfish and Pookalounge.

Saturday, August 4th 2018
2pm - 12am

LOCATION: Across from American Steel in Oakland CA.

Help support 3 great projects coming to the Playa.

There will be tricycle racing, tacos, drunk art, B-boy dance-off, art auction,
music and we will be vandalizing a vehicle.

More more infro, contact artgritt@gmail.com


4. BAY AREA BURLESQUE - AUGUST/ SEPTEMBER 2018

BAY AREA BURLESQUE - AUGUS/SEPTEMBER 2018

This is by no means an exhaustive list of Bay Area burlesque in August,
but some of the more thrilling offerings of the month include…

For further inquiries contact the fabulous Vixi Vale @ https://www.instagram.com/vixivale/

- Fri. 8/10 - Hubba Hubba Revue's "Old Time Religion"
Big Burlesque Revival @ DNA Lounge, SF

- Mon. 8/13 - ThreeTinyKlowns present a Monday Night Hubba Klown-lesque Extravaganza, Upstairs @ DNA Lounge, SF

- Fri. 8/17 - Black Manarchy, the world's first all Black, all male, Burlesque revue @ DNA Lounge, SF

- Thurs. 8/23 - Island Hospitality: Burlesque, Records & Rum @ Pagan Idol, SF

- Sat. 8/26 - Uptown Cabaret @ The Uptown, Oakland
- Thurs. 8/30 - The Starlight Room Cabaret @ The Sir Francis Drake Hotel, SF
- Mon. 9/3 and every single Monday Night - Monday Night Hubba, Upstairs @ DNA Lounge, SF
- Fri. 9/7 - Hubba Hubba Revue's 12th Anniversary @ DNA Lounge, SF
You can see Vixi solo'ing on 8/10, co-producing and performing "klownlesque" on 8/13, solo'ing on 8/23, performing and MCing at her monthly Starlight Room Cabaret, and performing with the ThreeTinyKlowns again on 9/7.

5. CLUBFOOT ORCHESTRA GREATEST HITS - 9.15.18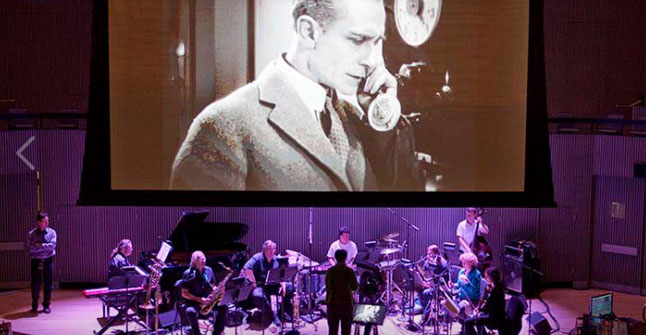 Saturday, September 15, 2018

12 PM - 9 PM (4 Shows!)
@ Castro Theatre
429 Castro St.
SF, CA 94114

The San Francisco Silent Film Festival is thrilled to announce
a silent movie blockbuster day at the Castro Theatre!

FOUR PROGRAMS of favorites from the silent era all
accompanied by the indefatiguable Club Foot Orchestra!

FB EVENT: https://www.facebook.com/events/261602064639055/
BUY SINGLE TICKETS: http://bit.ly/2utZeAE
BUY ALL DAY PASS: http://bit.ly/2uxSTUP

1) BUSTER KEATON & FELIX THE CAT (70 Mins) / 1PM
• FELIX WOOS WHOOPIE (1928, d. Otto Mesmer, 6 mins)
• ONE WEEK (1920, d. Buster Keaton, Eddie Cline, 23 mins)
• THE BLACKSMITH (1922, d. Buster Keaton, Malcolm St. Clair, 23 mins)
• COPS (1922, d. Buster Keaton, Eddie Cline, 18 mins)

2) THE CABINET OF DR. CALIGARI (77 Mins) / 3:15 PM

3) METROPOLIS/ 148 Mins) / 6 PM

4) NOSFERATU/ (94 Mins) / 9:30 PM

Founded in 1983 by Richard Marriott, Club Foot Orchestra (named after an extinct nightclub in San Francisco's Bayview), was a pioneer in creating modern music for silent film. Their accompaniments are thoughtful and expressive, showing respect and engagement in the images they compose for.

Audiences at SFSFF 2013 will remember the extraordinary music Club Foot Orchestra and Gamelan Sekar Jaya set to the Balinese film Legong: Dance of the Virgins. For the September 15 program, Club Foot is running an all-day marathon:

Four BIG programs in one day! Starting the day out with the sublime Buster Keaton and the mischievous Felix the Cat and veering into the world of German Expressionism with three masterpieces—The Cabinet of Dr. Caligari, Metropolis, and Nosferatu—Club Foot leads the way into a deeper appreciation for the genius of silent cinema.
6. JAZZ MAFIA ACCOMPLICES - 12-9.18



JAZZ MAFIA ACCOMPLICES
Jazz Mafia Accomplices w/ Special Guests

SUNDAY, DECEMBER 9,, 2018
6PM & 7:30PM (Two Shows)
@ SFJAZZ Center
201 Franklin Street
San Francisco, CA 94102

FB EVENT: https://www.facebook.com/events/2016122545266109/
BUY TICKETS: https://www.sfjazz.org/tickets/productions/jazz-mafia-accomplices/
Originally assembled for performances of The Soiled Dove, the spectacular big-top circus-meets-burlesque dinner theater show produced in collaboration with the Vau De Vire Society on the Alameda waterfront, this eclectic sextet blends hip-hop, electro-swing, and early jazz with the bawdy spirit of the Barbary Coast.

For this thrilling, dance-friendly night of sensory overload that brings together the extended Jazz Mafia family, Theis' ensemble of brass, strings, and percussion is joined by a number of guest vocalists, to be named soon!


7. ANONEVENTS - EVENT DESIGN SERVICES NOW!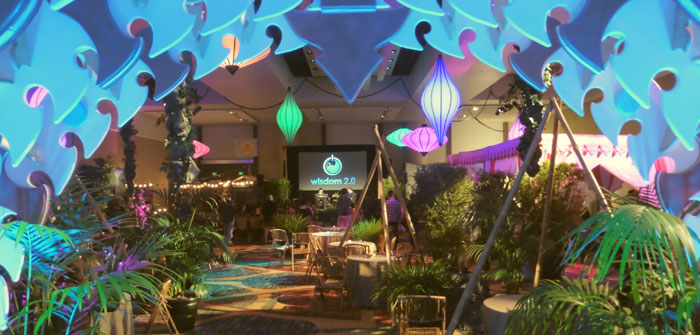 PUT THE ANON SALON TOUCH ON YOUR UPCOMING EVENTS!

Let Anon Events/Climate Theater handle all of your bar and decorating needs!

We manage everything from permitting to decor and lighting, and can also assist with booking unique musical and theatrical talent.

You know Climate Theater, Anon Salon, and Anon Events from our involvement in large scale productions in the San Francisco Bay Area over the past 30 years, including Sea of Dreams NYE, Hardly Strictly Bluegrass, Wisdom 2.0, How Weird, SuperHero, and Burning Man's Street Fairs.

We can take care of your staff and setup needs for almost any type event. From corporate receptions to art soirees, we've done it all. If you need a friendly, knowledgeable and understanding team of professionals with a solid roster of staff and performers, we're your go to guys.

Utilize our years of experience to make your event space look spectacular and let us know how we can help bring your vision into reality.... Wishing you a wonderful Holiday season and a great start to 2018!

Anon Events/Climate Theater: Joegh Bullock & Laird Archer

http://anonevents.com <=• | •=> http://climatetheatre.com
8. YARD DOGS ROAD SHOW MOVIE STREAMING - NOW!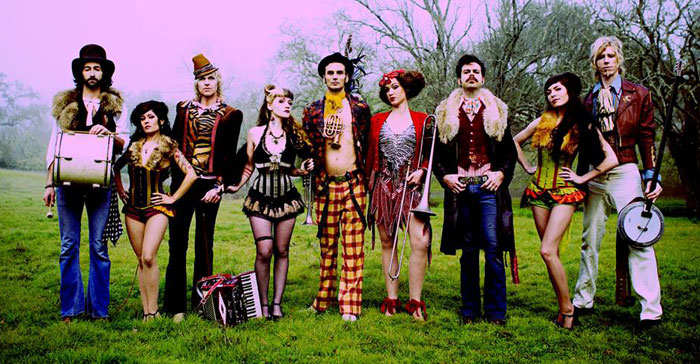 If you like many, miss the Yard Dogs Road Show... or if you missed them altogether, they're back in movie form, now available for streaming or purchase @

https://vimeo.com/ondemand/yarddogsroadshow

It's a really wonderful film put together by Flecher Fleurdujonn and Little Macho from footage that Flecher shot over the course of freakin' years...

It's the story of a gang of poets, artists, dancers and musicians who turn a pile of puppets, an abundance of creativity and a yen for adventure into an international touring "vaudeville" show. These guyz & galz ... rocked the Bay and beyond in big, fun and sexy ways.