1) VAUDE D' GRAS (NOLA) - 7.14.17
2) BIG TROUBLE IN LITTLE CHINA MOVIE MAYHEM - 7.21.17
3) FIFTH ELEMENT MOVIE SPECTACLE - 7.22.17
4) PSYCHEDELIC FRIENDSHIP BINGO - 7.22.17
5) CALLS FOR SUPPORT (Friends in Need)
6) OPULENT CHILL @ BM 2017
7) CIRQUE DE (INFECTED) MUSHROOM - 7.28-29.17
8) TRAPEZE FEVERISH 5 YEAR ANNIVERSARY - 8.05.17


1. VAUDE D'GRAS - 7.14.17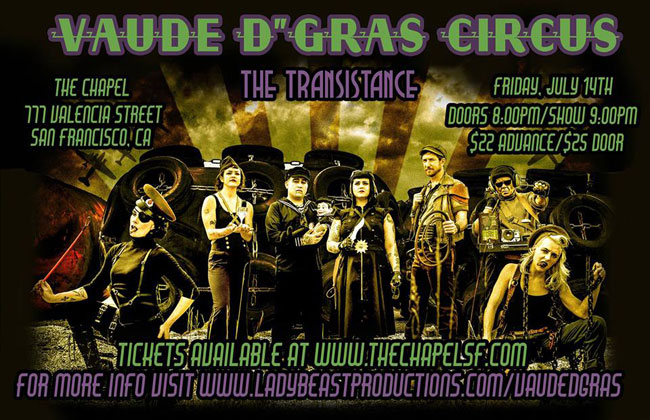 Vaude D'Gras (From New Orleans!)
Friday, July 14, 2017
8 PM - Midnight
@ The Chapel
777 Valencia St.
SF, CA 94110

BUY TIX: https://www.ticketfly.com/purchase/event/1515628
FB EVENT: https://www.facebook.com/events/1971623269791492/
VIDEO TRAILER: https://www.youtube.com/watch?v=sF6CWKskI3k

All the way from New Orleans, LA comes Vaude D'Gras, brought to you by LadyBEAST Productions - esteemed partner in 2017's debut Edwardian Ball New Orleans. Vaude D'Gras is a unique theatrical,immersive, and experimental spectacle combining modern vaudeville with circus acts steeped in sideshow tradition. The Transistance is the fourth installment of the on-going Vaude D'Gras annual Mardi Gras show based in New Orleans, LA. Acts include bawdy burlesque, specialty aerial feats, operatic sideshow stunts, bullwhip cracking, gun slinging, knife throwing, and bottle walking, set against a post-apocalyptic plot line with a socio-political humorous twist.
2. BIG TROUBLE IN LITTLE CHINA - 7.21.17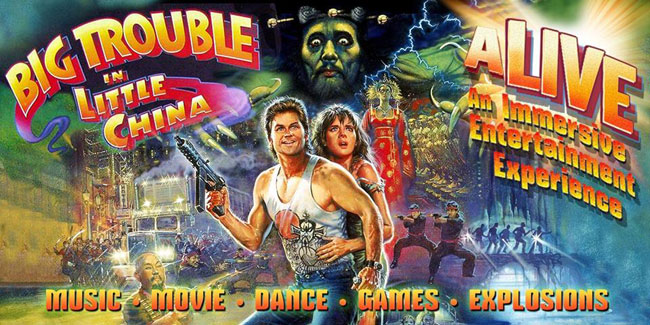 Big Trouble in Little China - (A)LIVE - Movie Mayhem is BACK!!!
Friday, July 21, 2017
7PM-1AM
@ Great Star Theater
636 Jackosn St.
Chinatown. SF, CA 94133
(MAP)

FB EVENT: https://www.facebook.com/events/2000777840146039/

An Immersive Entertainment Experience! Join us for a night full of "Big Trouble" mayhem.

Come watch the John Carpenter, Cult-Classic Movie in an enhanced theatrical environment, with 3 projectors, live visuals effects, explosions, martial artists, music, madness, special guests and more...

Come early and stay late for a full on Jack Burton Dance Party.
Created, Produced and Directed by Mad Dog Madigan (Art Director of The World-Famous Edwardian Ball, Vau de Vire Society, Opulent Temple White Party, New Bohemia and PhantasmSF).
Social Media Director, James Sucher, Visuals by Dustin Jay Edwards

Featuring Fou Fou Ha! - San Francisco's premier burlesque clown troupe.
Special Creature Creation by Dave Haaz-Baroque & Brian Hagen.

That's 5-Hours of Entertainment! " Limited Engagement.

This Event will sell-out!

Big Trouble in Little China - Starring Kurt Russell and Kim Cattrell.

Movie, Mayhem & More... 7 pm - Doors 8:00 pm - Show 8:30 pm - Movie 9:15pm - Intermission 11:00pm - Dance Party 1:00 pm or later - Lights up

"Everyone relax, I'm here"- Jack Burton.

Candy & Concessions Beer, Wine & Champagne Cash Bar Hot Popcorn Soft Drinks
Outdoor Smoking Area ATM Machine

Parking: Available at Portsmouth Garage one block away from the theater and California Parking Inc. 555 Jackson St, San Francisco, CA 94133:https://goo.gl/maps/yJNaXfkK3yp

Good Food in the Neighborhood! FAQs A Family Friendly Event. Outside Alcohol is NOT permitted.
info@GreatStarMovies.com
3. FIFTH ELEMENT (A)LIVE MOVIE SPECTACLE - 7.22.17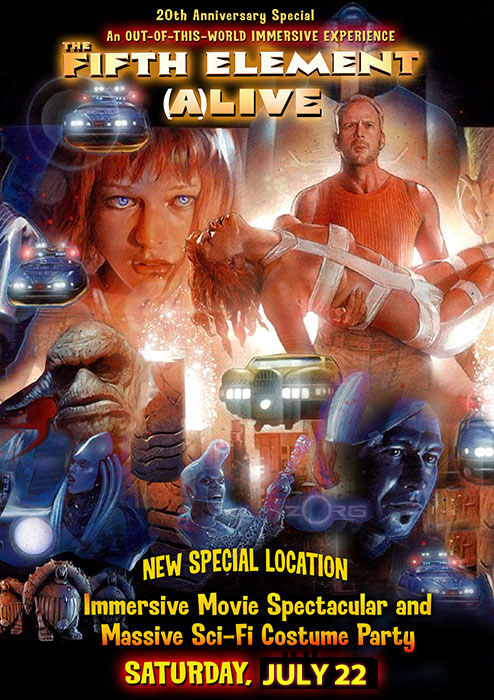 It's Back!!! For One Big Night Only!!!

20th Anniversary Event The Fifth Element (A)Live Immersive Movie Spectacular
and Massive Sci-Fi Costume Party

SATURDAY, JULY 22, 2017
@ The Great Star Theater (Chinatown)
666 Jackson Street
San Francisco, CA 94133
(MAP)

BUY TICKETS: http://TheFifthElementAlive.com
FB EVENT: https://www.facebook.com/events/254351211703379/

Join us for a full evening of exciting Immersive Experience and Massive Sci-Fi Costume Party!
Come watch Luc Besson's Sci-Fi-Classic Movie in an enhanced theatrical environment with 4 projectors, live visuals effects, explosions, live musical performances, costume contests and much much more.

Come dressed in your out-of-the-world attire and get ready for blast off!!

Last year, all 3 shows SOLD OUT QUICKLY!

Featuring Live Performances from…
• Fou Fou Ha! • Amanda Gregory • Ms.K. • Eka Boo Button
& Many Super Special Guests • Hosted by Jasper Patterson

Doors 7:30pm
- Sci-Fi Soirée 9:00pm
- Live Stage Show 9:30pm
- Movie: The Fifth Element 10:30pm
- Intermission Show 11:30pm
- Dance Party All Night Long

3-FULL LIQUOR BAR including: Wine & Champagne. • Dedicated Ridesharing pickup and drop off area. • Secure Bicycle Parking • Food Concessions • Photo Booth • Vendors • Lounge Areas • Smoking Area • ATM Machine . & MORE to COME
4. PSYCHEDELIC FRIENDSHIP BINGO - 7.22.17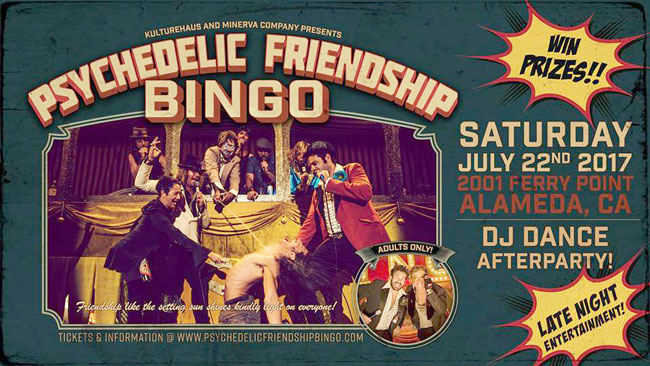 Psychedelic Friendship Bingo | Big Time at the Big Top

Saturday, July 22, 2017

8PM-2AM
@ Tortona Big Top
2001 Ferry Point
Alameda, CA 94501

BUY TIX: https://www.tixr.com/groups/kh/events/psychedelic-friendship-bingo-5818
FB EVENT: https://www.facebook.com/events/1881414962113978/
FB PAGE: https://www.facebook.com/psychedelicfriendshipbingo/

* 8pm: Doors * 9pm: Cello Joe * 10pm SHOWTIME! Laugh yourself silly!
Stay late for the after party!

Dig out your daubers and your lucky charms because Psychedelic Friendship Bingo
is heading to the Big Top...BIGTIME!

Prepare to upgrade your brilliance through impeccable improv and the unbelievably attractive
candor of our beloved MCs, Micha D & Leighton Kelly

3 games throughout the night! Daubers will be available for use but must be returned.

Celebrity Guest Stars: * Grumpy Princess * Rachel Lark aka DJ Lark Chakra
* World Famous Hotdog & MORE TBA!

If you are new to Psychedelic Friendship Bingo... approach with courage and an open heart!
We are all in this together!

It's weird! • It's a party! • It's an interactive game show!
It's bingo like you have never seen it before!

Glitz and Glamour! • Trivia questions and seriously amazing prizes!!!
This ain't your Granny's bingo hall... but, bring her if she likes to have a ball!

> Pearl Tickets: Standing room only with cocktail tables
> Diamond Tickets: Private up-close seated area Opie's GSB Truck and Full Bar onsite

And remember, "Friendship, like the setting sun, sheds kindly light on EVERYONE!"
5. CALLS FOR SUPPORT (Friends in Need)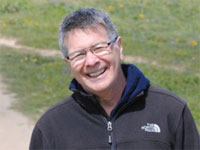 LAWRENCE FURMAN

Lawrence Furman, a dear friend of my own for over 40 years, is now in the final stages of his return home. He has stopped his cancer treatments and is preparing himself for his departure, which alas, will come soon. He is a wise old soul with a clown streak wide as a river.

When I first came to SF, we started a circus together called Jolly Wally's Wonder Follies. He has lived an incredible life, circus perfomrer, magician, psychic, plumber, builder, heroic lover of life and father to our dear friend, filmmaker Flecher Fleudujon from the Yard Dogs Road Show.

Lawrence's biography includes three near death experiences, all before the age of 20, which he describes in his recently published book, which you can find at the link.

"Memoir of a Slightly Mad Mystic: How Dying Saved My Life"

You can help with his final expenses here...
https://www.youcaring.com/lawrencefurman-816449

If you know Lawrence, and would like to attend a gathering in his honor
on July 22nd in Novato, contact me at spoon@anonsalon.com

~•~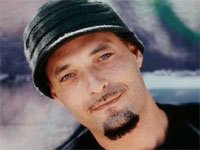 BLANE LYON

A very bright light in our community is in need of our immediate help. Blane Lyon, a great musical soul and ally in our West Coast family, has been diagnosed with a stage 4 cancerous tumor on his vocal chord. I personally had the great pleasure of having him and his band perform numerous times - truly a soulful guy with a lovely young family who could use some help to get the right treatment to restore his voice and his health.
https://www.gofundme.com/healblanelyon

~•~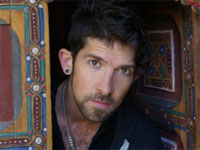 F'KIR ELDERFARE
A dedicated member of the local music, art and performance community, F'kir is a gentle soul and long-time colllaborator with Bad Unkl Sista - who has run into trouble with the law and could use some help.

https://www.generosity.com/fundraising/f-kir-s-freedom-help-keep-f-kir-home
6. OPULENT CHILL KICKSTARTER - thru 7.23.17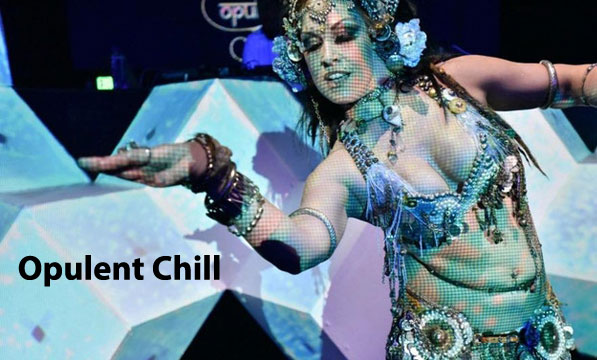 Opulent Chill/ BM 2017

Opulent Chill is a new sound camp at Burning Man 2017
and we need YOUR help to make this vision come to life!

https://www.kickstarter.com/projects/31739739/opulent-chill-camp-at-burning-man-2017

Opulent Temple co-Founder Syd Gris and his sister G'Lux have teamed up with other OT members and the newly interested, to create this side project to provide a sanctuary of chill vibes, dance performance, music, gathering & connection in BRC.

The camp was inspired by the chill lounge/ side room at the annual San Francisco version of Opulent Temple Sacred Dance White party in which a beautiful loungey space is created with more chilled out music, and all forms of dance and theatrical performance happening on a stage throughout the night.
7. CIRQUE DE MUSHROOM - 7.28-29.17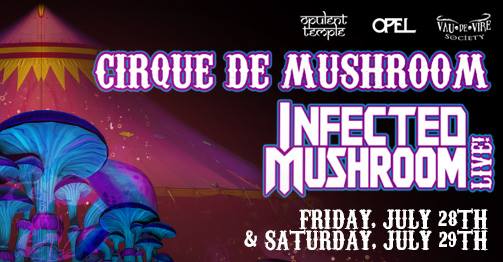 Opulent Temple, Opel Productions & Vau de Vire Society present

Cirque de Mushroom Infected Mushroom
Friday July 28th & Saturday July 29th (2 Nights!)

@ Tortona Big Top
2001 Ferry Point
Alameda, CA 94501
(MAP)

Full Band Live Performance
+ The best in urban Cirque Freqs from the Vau de Vire Society
+ DJ's from Opulent Temple Awesome in the making!

FRIDAY TIX: http://opelproductions.electrostub.com/event.cfm?cart&id=183235
SATURDAY TIX: http://opelproductions.electrostub.com/event.cfm?cart&id=183236

FB EVENT: https://www.facebook.com/events/1840775012913838/

Join these 3 creative crews coming together for this special event where we can put all our talents together for a unqiue and unforgettable night under the Big Top! The world-wide phenomenon that is psy-trance legends turned rock-tronica pioneers, Israeli band Infected Mushroom, brings their new stage set up featuring a huge video mapped visual wall and LED mushrooms.

Cirque performance through the night featuring aerialists, contortion, fire dancing, flesh suspension, sword swallowing, hooping, colorful characters, and other mind blowing dazzling feats in 360 degrees of entertainment.

INFECTED MUSHROOM (Israel)
WWW: http://infected-mushroom.com
FB PAGE: https://facebook.com/infectedmushroom
SOUNDCLOUD: http://soundcloud.com/infectedmushroom
TUMBLR: http://armyofmushrooms.tumblr.com

Full DJ line up TBA

To be clear - This party is taking place over 2 Nights in the Tortona Big Top Circus Tent.
Make sure you're buying tix to the right night!

Both nights are bult to be amaze-balls! We've priced Saturday slightly higher because we've scheduled more performances that night, but both are bult to WOW!

Friday's show is 18+ to enter, 21+ to drink. Saturday is 21+ only


8. TRAPEZE FEVERISH 5 YEAR ANNIVERSARY - 8.05.18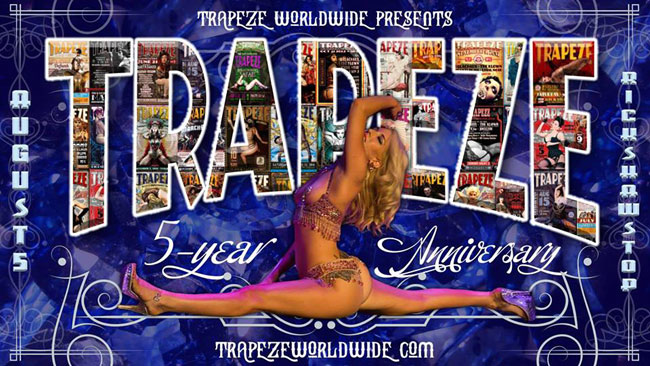 Trapeze Feverish Five Year Anniversary
Saturday, August 5, 2017
9 PM - 2 AM
@ Rickshaw Stop
155 Fell St. (@ Franklin)
San Francisco, CA 94102
21+

San Francisco's infamous bonfire of bass and burlesquerotti returns home to celebrate their feverish 5-Year Anniversary with a full-tilt filibuster of ferocious fashion, phantasmagoric flesh, and rakish rag-step electro. From Monarch to Amori's, from Black Rock to BHOF, Trapeze's whirling cylinder of bombastic bass and sorcerous swing has scorched, torched, towered and tumbled its way through a half-decade safari of seismic seduction that continues to mutoxicate the West Coast and beyond. It's been a hoot—and we're just getting started. We're christening this Sapphire Anniversary with the official release of our new compilation album 'Quadrofiendia: The Sounds of Trapeze, Vol. IV.' All guests to the Anniversary party will receive a code for a free download — so take THAT!

$15 PRESALE / $20 DOOR
BUY TIX: http://www.rickshawstop.com/event/1510887-trapeze-bass-burlesque-san-francisco
FB EVENT: https://www.facebook.com/events/249382912216710/
WWW: http://www.trapezeworldwide.com/

Time to git lit n' go apeshit with Trapeze stunt DJs:

SF's Own Big-Top Renaissance Ape:The Klown (DirtyVolt Music)
SF's Own Sonic Evocateur: Delachaux (DirtyVolt Music)
Los Angeles Vaude Villain:Duke Skellington (Ragtime Records)
Bay Area Libertines: Limbs Akimbo, featuring Sevon Caneri (DirtyVolt Music)

Lose yourself to the Pneumatic Pantheon of Panty-monia:

Las Vegas Sex Grenade: Valerie Stunning!
High Voltage Valkyrie: Olivia Bellafontaine!
Vau de Vire Vixen: Jay Bee!
Miss Thrill: Mojo DeVille!
Superstar Impaler: Gabriela Starchild!
Sparkling Darkstress: Jain Dowe!
Spitfiring Sireness: Kitty Oaks!

Fabled Fiends & Floozies: Fou Fou Ha!
Plus Ferocious Hostess from the Hot Mess Express: Miss Emmma Nation!

DOPPLEBANGER VIZUALS & DAPPEROCITY ABOUND!

TRAPEZE is a San Francisco-based burst of immersive sound and fury featuring the world's top retro-electro artists and neo-burlesque talent.
'Trapeze feels like Betty Boop threw an acid party.' - SF Weekly
'The crowd itself was a show.' - LA Splash Magazine