1) JAZZ MAFIA EVENTS - MARCH & APRIL
2) GOLDHIVE/ GATSBY & GREAT RACE - 3.30.18
3) GOOFERMAN DAY - 3.31.18
4) BURLESUE CALENDAR - APRIL
5) EARTH DAY SF - 4.21.18
6) SPRING CHICKEN - 4.27.18
7) ANON EVENTS - Now!
8) YARD DOGS ROAD SHOW MOVIE STREAMING - Now!



1. JAZZ MAFIA - MARCH & APRIL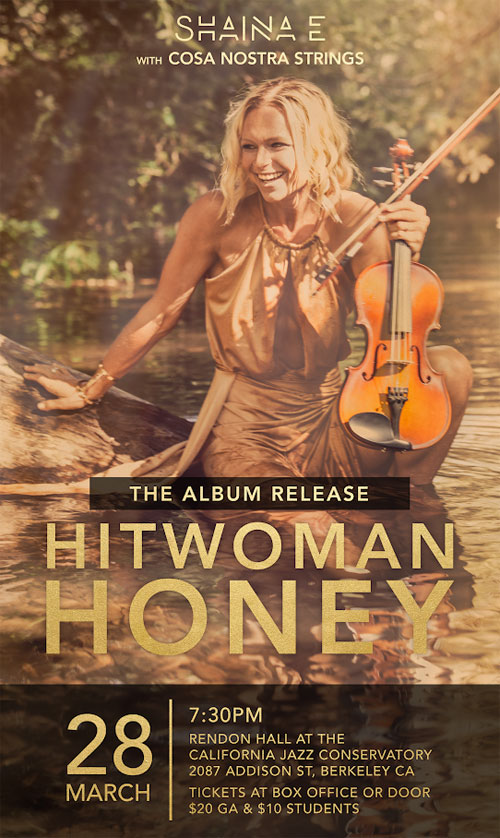 SHAINA E ALBUM RELEASE EVENT
Thursday, March 28, 2018
BUY TIX: https://cjc.edu/concerts/?eid=25916

WEDNESDAY 4.4.18 - COSA NOSTRA STRINGS
@ STRINGS// TICKETS

SATURDAY 4.7.18 - SHOTGUN WEDDING QUINTET + BRASS MAGIC
@ ELBO ROOM, OAKLAND // TICKETS

SATURDAY 4.21.18 - FOREST DAY + OTIS MCDONALD
@ STARLINE SOCIAL CLUB, OAKLAND // TICKETS

SUNDAY SKOOL - PHOTOS

JazzMafia.com

2. GOLDHIVE/ GATSBY & GREAT RACE - 3.30.18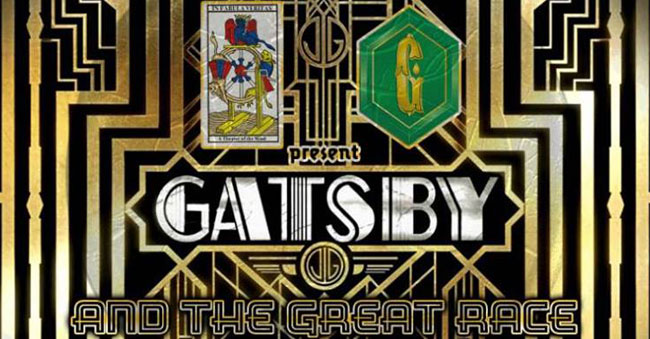 GOLDHIVE and IN FABULA VERITAS present GATSBY AND THE GREAT RACE

A PREMIUM IMMERSIVE GAME EXPERIENCE

Friday, March 30, 2018

BUY TIX: https://e.sparxo.com/GATSBY-AND-THE-GREAT-RACE-an-IFV-production
FB EVENT: https://www.facebook.com/events/222303001653078/

"So we beat on, boats against the current, borne back ceaselessly into the past."
- The Great Gatsby, F. Scott Fitzgerald

Your invitation has arrived! The Great Gatsby is throwing a fete that will be the social event of the season, one you dare not miss. Rumors of his ailing fortune and madness must be unfounded. And the word is that he will announce a shocking turnaround at the party. It will be the bee's knees for certain!

Take the role of a paragon of high society in the Roaring Twenties at a party the likes of which the universe has never seen. Dress to impress, dine on fine catered food and sip delicious beverages all at the luxury abode of the Great Gatsby. A compelling immersive story will unfold that will titillate, shock and amuse - all the more for you will be challenged to investigate the strange goings on with your compatriots, LIVE!

WHAT TO EXPECT
- An Evening of Immersive Thrills
- Tabletop Dice and Paper Roleplaying with 7 other Compatriots in Unique Rooms
- A Customized Character Packet With Background and Personality Cues
- Strange and Wonderful Audio and Visual Effects
- Expert Keepers Guiding the Experience
- Gourmet Food and Drink
- Precious Souvenirs of Your Time at Gatsby's Great Race

----------- VENUE SAN FRANCISCO ADDRESS PROVIDED AFTER TICKET PURCHASE -----------

IN FABULA VERITAS ("In Play, Truth") is a regularly held premium theater-of-the-mind experience hosted at GOLDHIVE that brings amazing scenarios, incredible storytellers, delicious food, clever technology and a gorgeous immersive environment to guests for an unforgettable night of role playing delight.

We will be using a very light version of the Call of Cthulhu 7th Edition Rules for this game.

CONTENT WARNING: This experience is rated R - there may be disturbing subject matter, psychological horror, nudity, sex and violence described during the course of the game. However, all players will be completely safe during the run. Players will have an X-CARD System to provide feedback on disturbing or triggering situations.

Note: No refunds may be offered after 6:30 PM March 26. Any resemblance of characters in this production to fictional or real individuals living or dead is purely coincidental.

GOLDHIVE is an immersive theater space in San Francisco created by the Mystic Midway that fosters a conscious and intriguing community.

JOIN THE MAILING LIST HERE.
Based on the Call of Cuthulhu adventure by Paul Fricker
3. GOOFERMAN DAY - 3.31.18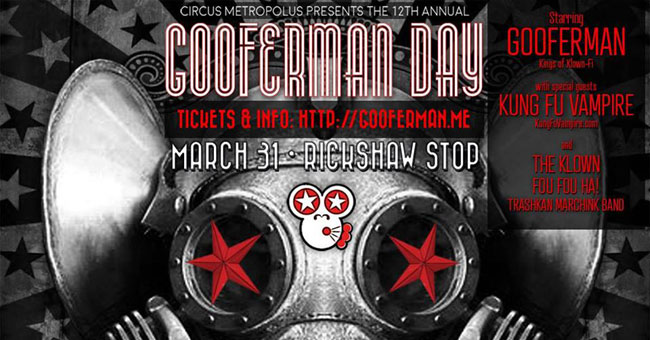 Circus Metropolus proudly presents no less than:

The 12th Annual GOOFERMAN DAY
Saturday, March 31, 2018

@ Rickshaw Stop
155 Fell @ Van Ness
San Francisco, CA
9pm-2am /
21+ w ID

$10 Adv Early Bird / $15 Advance GA / $20 Late Adv GA & Door

BUY TIX: https://www.rickshawstop.com/event/1653446-gooferman-san-francisco/
FB EVENT: https://www.facebook.com/events/2026495607676653/

As legend has it, in 2006 the Mayor of San Francisco, one Gavin Newsome, unwittingly dropped the world into the dastardly klutches of klowns by declaring April 1st forever to be recognized across the universe as ... GOOFERMAN Day!

Even more amusing, there was no coercion, payola, strong-arming, exploitation, sexploitation, malevolence, surreptitiousness, etc & so forth, in the making of the kommercial. Or so legend has it. Be that as it may or may not be, as March 31st oozes into April 1st a most bombastic, barred-holds-none banquet of bubblebouncing beatitude with the original bohemianite Kings of Klown-Fi and their konspiring kompatriots SHALL ensue, like or not and back again! Your most favorable outcome will be realized if and only if you take it upon yourself to don your finest and filthiest of formal folly wear and join us for a rare and celebratory episode of absurdity in absolution!

Starring: GOOFERMAN and special guests KUNG FU VAMPIRE
along with: The Klown - Fou Fou Ha! - Trashkan Marchink Band -
& utter Special Guests TBA & otherwise
4. BURLESQUE CALENDAR - APRIL


BAY AREA BURLESQUE - APRIL 2018

This is by no means an exhaustive list of Bay Area burlesque in April, but just some of the more unique and fanciful offerings of the month include…

- Fri. 4/13 AND every single Monday night, Hubba Hubba Revue @ DNA Lounge, SF

- Weds. 4/25 Haus Serpens Quixotic Cabaret @ The Golden Bull, Oakland  

-Thurs. 4/26 The Starlight Room Cabaret @ The Sir Francis Drake Hotel, SF

- Fri. 4/27 "Breasts. A Fantastic Exploration of Art and Identity" multimodal art show @ Public Works, SF (not burlesque, per se, but burlesque-adjacent featuring art of and by many local burlesquers, including live performance art.
5. EARTH DAY SF - 4.21.18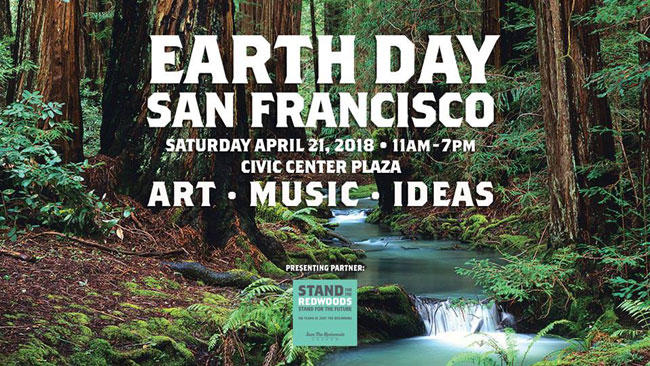 Earth Day San Francisco 2018 - 4.21.18
April 21 11 AM - 7 PM
@ SF Civic Center

FB EVENT: https://www.facebook.com/events/487751381620102/
FB PAGE: https://www.facebook.com/EarthDaySF/

Thousands of people from the Bay Area will converge at Civic Center Plaza in the heart of San Francisco to celebrate Earth Day 2018.

We are partnering with the Save the Redwoods League to highlight their centennial anniversary in 2018.
The theme for the League, and our theme for this year's Earth Day, is...
STAND FOR THE REDWOODS/ STAND FOR THE FUTURE.

Come CELEBRATE THE PLANET!
Solar powered MAIN STAGE performers include:
DJ DAVID HARNESS - house music
KARMA MOFFETT playing Tibetan bowls and longhorns
GADJE FIVE - Balkan music
BAYONICS - reggae
CHRIS CANE - blues
UNDERGROUND NOMADS - live Tribal, Fusion & Belly dancing, Global Beat DJs)
with DJs AMAR & SURESH, guest musicians,
& resident dance ensembles including
QABILA FOLKDANCE Co.
FAT CHANCE BELLY DANCE
CYPHERS4CHANGE - conscious hip-hop

SPEAKERS on the MAIN STAGE include:
MARK LENO - former California State Senator and San Francisco Mayoral candidate
JANE KIM - San Francisco Supervisor and Mayoral candidate
TOM AMMIANO - former State Assemblyman
JONATHAN FOLEY - Executive Director California Academy of Sciences
SAM HODDER - CEO Save the Redwoods League
LINDSEY ALLEN - Executive Director Rainforest Action Network

"REDWOODS CANOPY TENT"
Speakers and panels throughout the day featuring environmental luminaries from the: California Academy of Sciences Save the Redwoods League SF Sustainable Fashion Week + more throughout the day

The event will feature Interactive D.I.Y. Workshops, Green-Economy and Businesses Info, Community Leaders, Civic Agencies, Electric Vehicle and Alternative Transportation Showcase, Youth Empowerment Groups, Green Tech Vendors, Fashion Show, and state and local politicians and activists who are actively working to address issues relating to the environment.

This year's festival focuses on activating the public to energetically pursue effective green solutions and integrate these sustainable practices into everyday life. Our goal is to empower the people of the Bay Area and beyond to individually and collectively address the local and planetary environmental challenges we face.



6. SPRING CHICKEN - 4.27.18



Spring has Sprung and with that, we cordially invite you to the inaugural edition of our new event,

SPRING CHICKEN: A VENDING GARDEN
SUNDAY, APRIL 27, 2018

FB EVENT: https://www.facebook.com/events/2016122545266109/
Brought to you by the creators and producers of The Edwardian Ball and the beloved Edwardinan Vendor Bazaar, this carefully-curated selection of local, artisan, and craft vendors will showcase a wonderful variety of high-quality, one-of-a-kind creations and a chance to meet the artists and makers.
As an added bonus, The Chapel will be serving their highly-acclaimed Sunday Brunch, including bottomless mimosas, throughout the day. Make a day of it, eat great food, enjoy drinks, and immerse yourself in a satisfying, alternative shopping experience from the usual big-box / Amazon experience, which also supports a healthy, creative community.

Now who's the Spring Chicken?! Bok!

7. ANONEVENTS - EVENT DESIGN SERVICES NOW!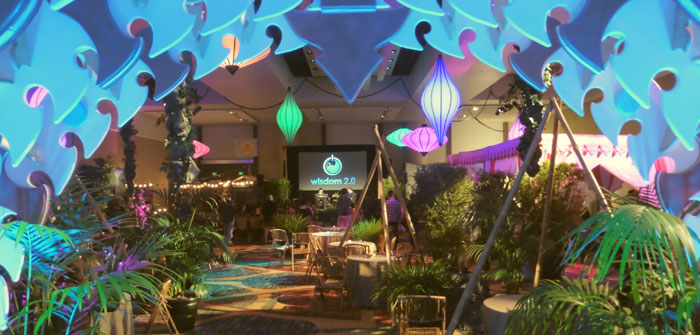 PUT THE ANON SALON TOUCH ON YOUR UPCOMING EVENTS!

Let Anon Events/Climate Theater handle all of your bar and decorating needs!

We manage everything from permitting to decor and lighting, and can also assist with booking unique musical and theatrical talent.

You know Climate Theater, Anon Salon, and Anon Events from our involvement in large scale productions in the San Francisco Bay Area over the past 30 years, including Sea of Dreams NYE, Hardly Strictly Bluegrass, Wisdom 2.0, How Weird, SuperHero, and Burning Man's Street Fairs.

We can take care of your staff and setup needs for almost any type event. From corporate receptions to art soirees, we've done it all. If you need a friendly, knowledgeable and understanding team of professionals with a solid roster of staff and performers, we're your go to guys.

Utilize our years of experience to make your event space look spectacular and let us know how we can help bring your vision into reality.... Wishing you a wonderful Holiday season and a great start to 2018!

Anon Events/Climate Theater: Joegh Bullock & Laird Archer

http://anonevents.com <=• | •=> http://climatetheatre.com
8. YARD DOGS ROAD SHOW MOVIE STREAMING - NOW!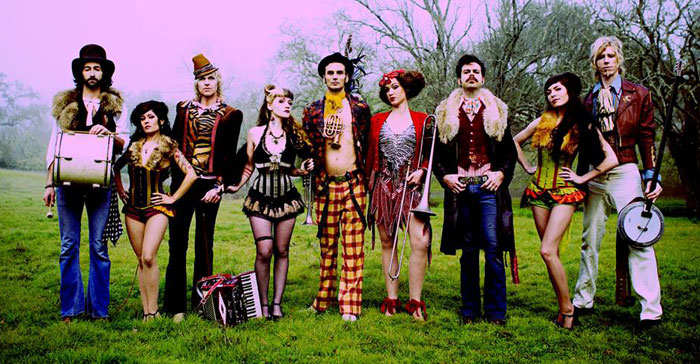 If you like many, miss the Yard Dogs Road Show... or if you missed them altogether, they're back in movie form, now available for streaming or purchase @

https://vimeo.com/ondemand/yarddogsroadshow

It's a really wonderful film put together by Flecher Fleurdujonn and Little Macho from footage that Flecher shot over the course of freakin' years...

It's the story of a gang of poets, artists, dancers and musicians who turn a pile of puppets, an abundance of creativity and a yen for adventure into an international touring "vaudeville" show. These guyz & galz ... rocked the Bay and beyond in big, fun and sexy ways.