1) VAU DE VIRE - THE SOILED DOVE - 6.09-7.01.17
2) ENCHANTED FOREST FESTIVAL - 6.9-6.11.17
3) BM DESERT ARTS PREVIEW - 6.11.17
4) BURNING MAN PRECOMPRESSION - 6.17.17
5) FIFTH ELEMENT MOVIE SPECTACLE - 7.22.17
6) CIRQUE DE (INFECTED) MUSHROOM - 7.28-29.17


1. THE SOILED DOVE - 6.09 - 7.1.17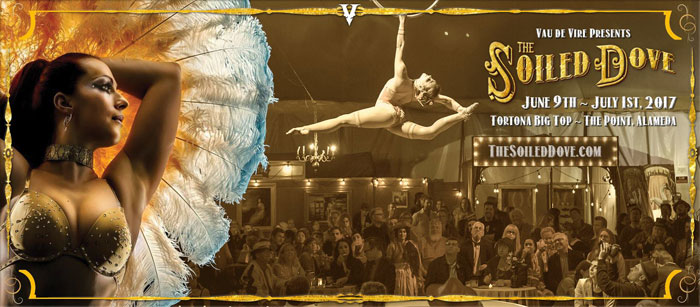 Vau de Vire Society presents The Soiled Dove!

THIS FRIDAY & SATURDAY
ALL FRIDAYS & SATURDAYS
THROUGH JULY 1

JUNE 9 - JULY 1, 2017
Under the Tortona Big Top!
@ 2201 Ferry Point
Point Alameda, CA 94501
(MAP)
From the co-creators of The Edwardian Ball, New Bohemia NYE, Lagunitas Beer Circus and a decade of San Francisco's most creatively outrageous nightlife events comes an immersive, circus-infused, dinner-theater experience that will titillate your every sense.

BUY TICKETS: http://bit.ly/2oEPMpL
WWW: http://bit.ly/TheSoiledDove

FB Event Weeks 1 & 2: bit.ly/TSD17fbweek1_2
FB Event Weeks 3 & 4: bit.ly/TSD17fbweek3_4

Vau de Vire on FB: https://www.facebook.com/vaudeviresociety/
Vau de Vire on WWW: http://vaudeviresociety.com
The Soiled Dove all takes place under the Tortona Big Top, our magnificent 12,000 square foot Italian circus tent sitting on the water's edge at The Point Alameda, with spectacular views of San Francisco. Set amidst a thematic backdrop inspired by San Francisco's notorious Barbary Coast era, guests can expect an engaging evening filled with danger, decadence, world-renowned performance and an innovative culinary spread worthy of royalty by San Francisco based Work of Art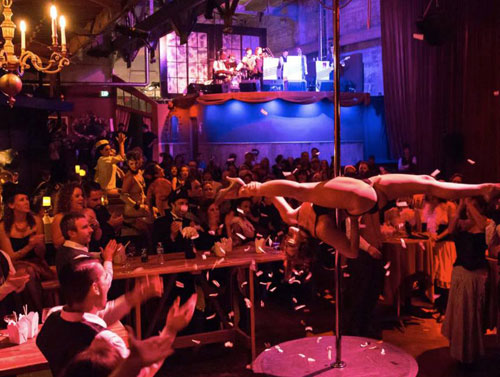 .

Live musical accompaniment and arrangements will be provided by the famed Jazz Mafia / Realistic Orchestra with surprise guest cameos each evening. Drink tantalizing libations at the Soiled Dove Saloon, crafted by San Francisco's own Monarch Bar.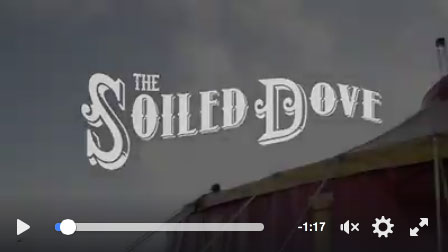 You will indulge in a world of decadence perfectly suited for those in search of an adventurous escapade into San Francisco's scandalous history. Guests are encouraged to submerge themselves in the revelry by putting a little (or a lot) of effort into their attire…styles that cover Victorian, Edwardian, 49er, Harlots, Crimps or their most stylish period couture.

Welcome to The Soiled Dove! IMPORTANT This is a 21+ event.
2. ENCHANTED FOREST FESTIVAL - 6.9-6.11.17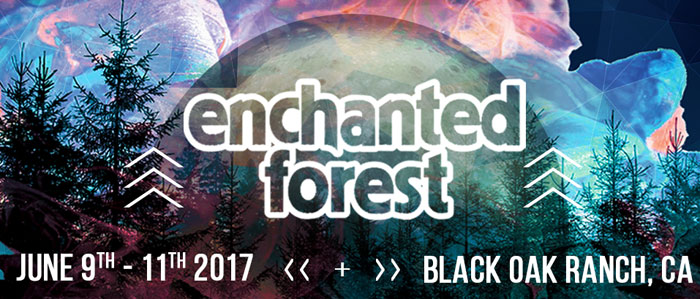 The 7th Annual Enchanted Forest Gathering
returns to Black Oak Ranch in Laytonville, CA on June 9th - 11th, 2017.

Our award-winning festival pairs internationally acclaimed live and electronic music from around the globe with art, workshops, presenters, vendors, comedy, camping and kids activities. Tickets are on sale now at http://www.enchantedforestmendo.com The "Shwirly Bird" tier is on sale now for a limited time only. Follow Us! Stay Connected! We are hilarious!

BUY TICKETS: https://www.eventbrite.com/e/enchanted-forest-gathering-2017-tickets-31686701778?aff=efbevent
WWW: http://www.enchantedforestmendo.com
FB EVENT: https://www.facebook.com/events/1806870152899082/
FB PAGE: https://www.facebook.com/EnchantedForestGathering/
TWITTER: https://twitter.com/enchantedmendo
INSTAGRAM: @enchantedforestgathering
EMAIL:info@enchantedforestgathering
w/ questions or requests for assistance in purchasing your ticket.



3. BM DESERT ARTS PREVIEW - 6.11.17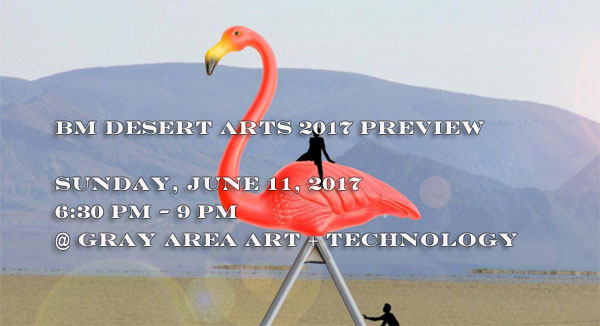 BM Desert Arts Preview
Sunday, June 11, 2017
6:30 PM - 9 PM
@ Gray Area Art + Technology
2665 Mission St, SF, CA 94110

BUY TICKETS: https://www.ticketfly.com/purchase/event/1473082
FB EVENT: https://www.facebook.com/events/202725663569350/

Desert Arts Preview is a beloved and exciting evening where artists will share the projects they plan to bring to the Burning Man event in 2017. Presenters will share their inspiration and hopes for these works in progress, giving the audience an exclusive window into their imagination and creative process.

This is also the perfect opportunity to learn how you can get involved and support these and other artists at the Burning Man event and year-round—as we increasingly seek to create interactive, collaborative and community-generating works of art in cities around the world. Come and learn how to get involved and help make the art you wish to see in the world.

Doors open at 6:30pm. Space is limited. Presentations begin at 7:00pm sharp. Each speaker will have a short presentation, arrive on time so you don't miss any of them. Please note - this year a festive street fare dinner is included with your admission!


4. BM PRECOMPRESSION - 6.17.17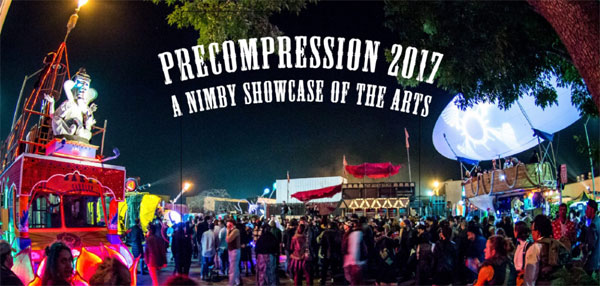 Burning Man presents: PRECOMPRESSION

Saturday, June 17th, 2017
@ NIMBY art space
8410 Amelia St,
Oakland, CA 94621

6:30PM -2AM

CALL FOR PARTICIPATION!!! This is a special call out for this year's Precompression to theme camps on this list. Join us for an evening of art, inventions, and imaginative community. This will be a creative collaboration of artistically epic proportions - from theme camps, art and mutant vehicles to performers and participants of every kind...

This year we will continue our spirited tradition of celebrating art where it is created by going to NIMBY and closing off Amelia Street. This is a great opportunity to test and prototype elements of your theme camp, try out that Radical Ritual concept that perhaps you've been thinking about, find like-minded collaborators, and strut your stuff!

Theme camps, art cars and interactive projects wanting to participate should email: flambelounge@burningman.org today!

Also for general questions. Artists and Art Projects wanting to be involved should email:
CallForArt@burningman.org

Performers and DJs, please complete info form:
http://bit.ly/precom2017performers

Want to volunteer? Email ce-volunteers@burningman.org

BUY TICKETS: http://eventstickets.burningman.org/purchase/event/1477686
FB EVENT: https://www.facebook.com/events/1810533665929274/


5. FIFTH ELEMENT (A)LIVE MOVIE SPECTACLE - 7.22.17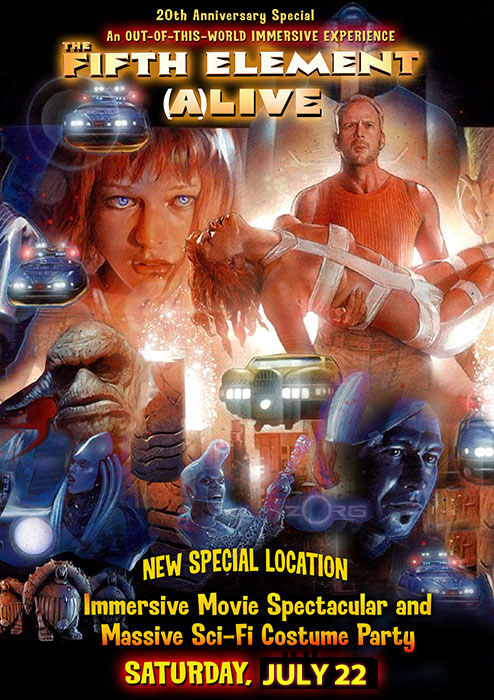 It's Back!!! For One Big Night Only!!!

20th Anniversary Event The Fifth Element (A)Live Immersive Movie Spectacular
and Massive Sci-Fi Costume Party

SATURDAY, JULY 22, 2017
@ The Great Star Theater (Chinatown)
666 Jackson Street
San Francisco, CA 94133
(MAP)

BUY TICKETS: http://TheFifthElementAlive.com
FB EVENT: https://www.facebook.com/events/254351211703379/

Join us for a full evening of exciting Immersive Experience and Massive Sci-Fi Costume Party!
Come watch Luc Besson's Sci-Fi-Classic Movie in an enhanced theatrical environment with 4 projectors, live visuals effects, explosions, live musical performances, costume contests and much much more.

Come dressed in your out-of-the-world attire and get ready for blast off!!

Last year, all 3 shows SOLD OUT QUICKLY!

Featuring Live Performances from…
• Fou Fou Ha! • Amanda Gregory • Ms.K. • Eka Boo Button
& Many Super Special Guests • Hosted by Jasper Patterson

Doors 7:30pm
- Sci-Fi Soirée 9:00pm
- Live Stage Show 9:30pm
- Movie: The Fifth Element 10:30pm
- Intermission Show 11:30pm
- Dance Party All Night Long

3-FULL LIQUOR BAR including: Wine & Champagne. • Dedicated Ridesharing pickup and drop off area. • Secure Bicycle Parking • Food Concessions • Photo Booth • Vendors • Lounge Areas • Smoking Area • ATM Machine . & MORE to COME
6. CIRQUE DE MUSHROOM - 7.28-29.17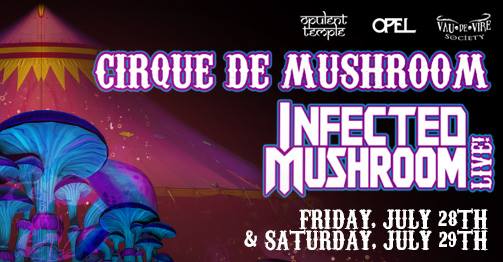 Opulent Temple, Opel Productions & Vau de Vire Society present

Cirque de Mushroom Infected Mushroom
Friday July 28th & Saturday July 29th (2 Nights!)

@ Tortona Big Top
2001 Ferry Point
Alameda, CA 94501
(MAP)

Full Band Live Performance
+ The best in urban Cirque Freqs from the Vau de Vire Society
+ DJ's from Opulent Temple Awesome in the making!

FRIDAY TIX: http://opelproductions.electrostub.com/event.cfm?cart&id=183235
SATURDAY TIX: http://opelproductions.electrostub.com/event.cfm?cart&id=183236

FB EVENT: https://www.facebook.com/events/1840775012913838/

Join these 3 creative crews coming together for this special event where we can put all our talents together for a unqiue and unforgettable night under the Big Top! The world-wide phenomenon that is psy-trance legends turned rock-tronica pioneers, Israeli band Infected Mushroom, brings their new stage set up featuring a huge video mapped visual wall and LED mushrooms.

Cirque performance through the night featuring aerialists, contortion, fire dancing, flesh suspension, sword swallowing, hooping, colorful characters, and other mind blowing dazzling feats in 360 degrees of entertainment.

INFECTED MUSHROOM (Israel)
WWW: http://infected-mushroom.com
FB PAGE: https://facebook.com/infectedmushroom
SOUNDCLOUD: http://soundcloud.com/infectedmushroom
TUMBLR: http://armyofmushrooms.tumblr.com

Full DJ line up TBA

To be clear - This party is taking place over 2 Nights in the Tortona Big Top Circus Tent.
Make sure you're buying tix to the right night!

Both nights are bult to be amaze-balls! We've priced Saturday slightly higher because we've scheduled more performances that night, but both are bult to WOW!

Friday's show is 18+ to enter, 21+ to drink. Saturday is 21+ only