1) WILDEBOAR'S ELECTRIC TRIO - 3.24.17
2) EDWARDIAN BALL 2017 - NEW ORLEANS - 3.25.17
3) MONDO NUTOPIA - A FUTURENOW SALON - 3.31.17
4) TRAPEZE: GOOFERMAN DAY! - 4.01.17
5) HOW WEIRD STREET FAIRE - 5.07.16
6) VAU DE VIRE STEAMPUNK MASQUERADE - 5.13.17
7) LIGHTNING IN A BOTTLE - 5.24-5.29.17
8) ENCHANTED FOREST FESTIVAL - 6.9-6.11.17

1. WILDEBOAR'S ELECTRIC TRIO - 3.24.17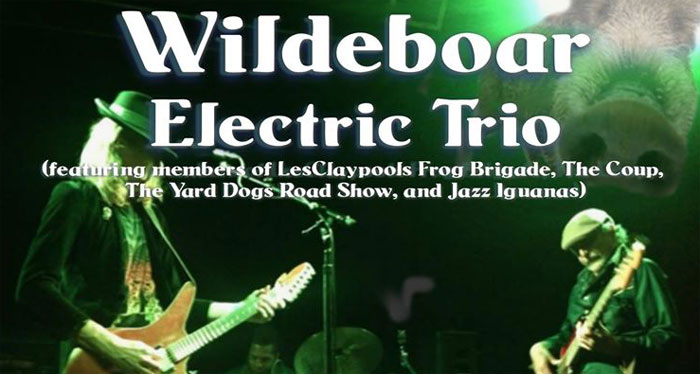 WILDEBOAR'S ELECTRIC TRIO
PLUS SIDECAR TOMMY
Friday, March 24, 2017
9 PM - 12 AM
@ Ivy Room
860 San Pablo Ave.
Albany, CA 94706

BUY TIX:http://ticketf.ly/2mGUyRU
FB EVENT: https://www.facebook.com/events/1902836246613801/

Wildeboar Electric Trio is Eenor's new power trio with Hassan Hurd on drums and Sam Gulisano on bass. They take the classic trio format further with rollercoaster swing and sway, their sound is monstrous and on the verge, their grit is fierce and their gold is butter smooth.

Eenor is a many dimensional multi-instrumentalist, songwriter, producer, and performer who has been received enthusiastically by audiences all over Europe and America. He's enjoyed many musical adventures from touring Europe with Plainfield (an infamous S.F.punk band), to studying with Indian Sarod master Ali Akbar Khan, to rocking the nation with Les Claypool's Frog Brigade. You've heard his guitar on the soundtrack of comedy central's Southpark for years. Eenor also recently toured worldwide for many years with The Yard Dog Road Show... an innovative cabaret cartoon ride through America's past and future.

Sidecar Tommy is known for beats – both digital and drummed. With roots steeped in The Yard Dogs Road Show, the Extra Action Marching Band, and a smashingly successful run as a co-producer, co-founder and multi-instrumentalist in electro-gypsy band Beats Antique, Tommy Cappel's solo work is where you get over 30 years of his experience in beats, unfiltered.
2. EDWARDIAN BALL 2017 - NEW ORLEANS - 3.25.17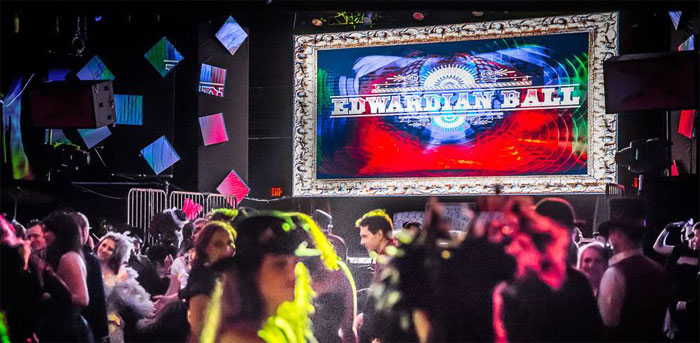 EDWARDIAN BALL 2017 - NEW ORLEANS
Saturday, March 25, 2017 8 PM - 3 AM CDT
@ Generations Hall 310 Andrew Higgins Dr.
New Orleans, Louisiana 70130
BUY TIX: https://www.ticketfly.com/purchase/event/1408805
WWW: http://www.edwardianball.com/#1483389986439-23327fdf-4662
FB PAGE: https://www.facebook.com/TheEdwardianBall/
FB EVENT: https://www.facebook.com/events/1491690500871077/

• SPECIAL FRIDAY NIGHT CIRCUS SOIREE: https://www.facebook.com/events/247541402368932/
@ One Eyed Jacks 615 Toulouse St. NOLA 70130

======== With New Orleans' Finest ========
• Preservation Hall's Big Bad Brass Band
• Aurora Nealand and the Royal Roses
• The G String Orchestra
• Emcee Guglielmo, the Opera singing sideshow sensation!
• LadyBEAST: Part Woman all BEAST
• Gogo McGregor: the Pain Proof Princess of Burlesque
• Sweet Tooth Simone
• Gretchen in Motion
• Sarah Stardust
• The Yada, Yada, Yada Sisters
* And more…!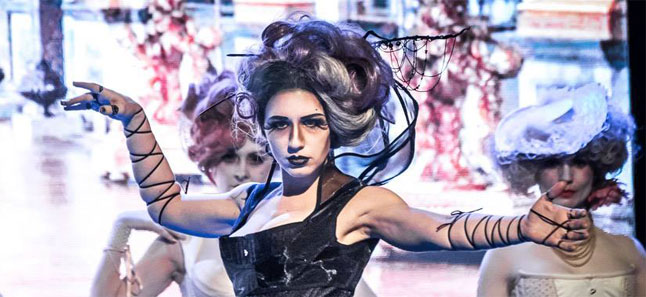 ======== From San Francisco & beyond ========
• Edwardian Ball creators and co-hosts Rosin Coven & Vau de Vire Society
• Delachaux & The Klown (TRAPEZE Worldwide)
• Dark Garden & Kat Robichaud * Fou Fou Ha!
• Vourteque
• Mr. Automatic
• Samantha Siren
• and of course, the art & stories of Edward Gorey,
featuring this year's classic tale, "The Deadly Blotter",
an alphabetical whodunnit classic murder mystery...

3. MONDO NUTOPIA - A FUTURENOW SALON - 3.31.17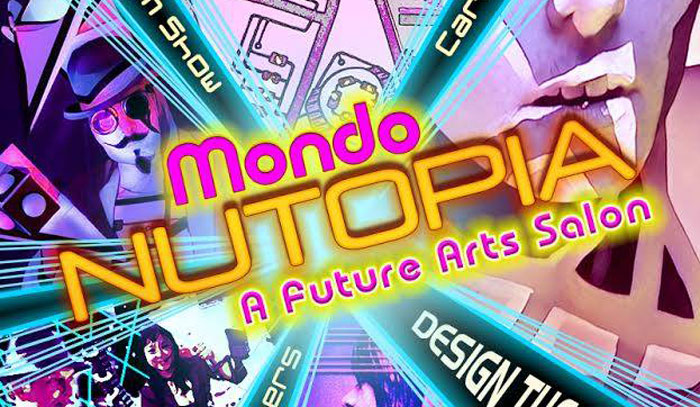 MONDO Nutopia - A FutureNow Salon
Friday, March 31, 2017 8 PM - 2 AM (21+)
@ Monument
140 9th St. San Francisco, CA 94103

Mystic Midway and Midwayville.com presents
MONDO Nutopia - A FutureNow Salon

ZEROWOLF LIVE IN CONCERT! Synthwave Spectacle!

BUY TIX: https://www.eventbrite.com/e/mondo-nutopia-future-culture-salon-tickets-32311596856
WWW: http://www.mysticmidway.com
FB EVENT: https://www.facebook.com/events/1299333633464989/

FEATURING:
~ Zërowolf LIVE IN CONCERT!
(This SYNTHWAVE Anti-Hero from the dystopian wastelands, raised by wolves and armed with his KEYTAR will melt your face off with tunes that meld orchestral soundscapes and 80's CyberSonic madness.)
~ DJ FACT.50 and the GOLDFIRE DANCERS
~ JAZZYFOX Chris Fox spinning orginal jazz mixes with an electronic twist
~ DJ RUMPLESTILTSKIN on the MOBILE RIG

WEAR ALL WHITE to participate in the GOLDFIRE EXPERIMENT
and receive SPECIAL VIP Nutopian Styling treatment!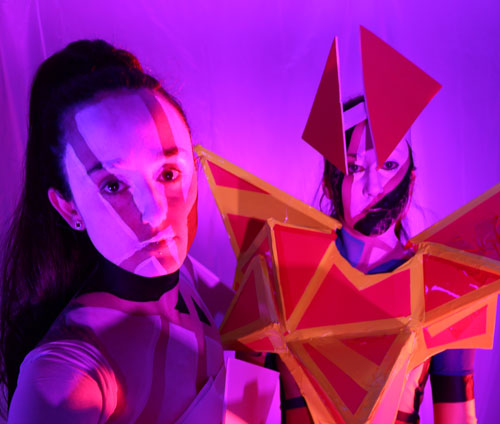 ~ MONDO NUTOPIA: a hands-on night of social alchemy, cardboard crafted visions, performance strangeness and beautiful creative chaos. Join us for an evening of Future Visions, Innovations, Collective Genius, Whimsy, Cardboard! Absurdity…

CALLING ALL NUTOPIANS: Provocateurs of Possibility, Instigators of The Impossible!
Designer Makers+ Future Thinkers+ Creative Visionaries...
WITH YOUR HOST - MONDO (Human-Puppet-Robot Hybrid),
The Mystic Midway, MIDWAYVILLE Ensemble and special surprise guest hosts!

~ 8pm MONDO NUTOPIA PRESENTATIONS: words of wisdom from Wise-asses,
Tech Wizards & Future Designers -
~ John William Vincent Law/ Pirate King of The T.A.Z.!
~ Karen Marcelo DORKBOT SF Founder and Teleobliterator!
~ Grumpy Princess LIVE! Disney Princess gone rogue!
~ Michael Gaio Evolutionary Experience Design! ~

~ MONDO NUTOPIA Fashion Show: New Trends in Absurdist Casual, FuturoDadaist, Wonderpunk & Creative Resistance Chic! With N.I.C.E. COLLECTIVE, Lilith Ransom and others!
~ WANDAS' - The Best Little Dollhouse in Nutopia with members of Rococo.co & The CULT OF BLOBBY Indoctrination Chamber- Animate and move 'real live dolls' 'PLAY WITH US! PLAY WITH US!' ~

GOLDFIRE CURRENCY DEBUT: Nutopian currency designed to inspire connection and collaboration!

~ MIDNIGHT RE-REDEDICATION of NUTOPIA: John Lennon and Yoko Ono's 'conceptual country' founded on April Fools Day, 1974 in response to his ongoing immigration issues.


4. TRAPEZE: GOOFERMAN DAY! - 4.01.17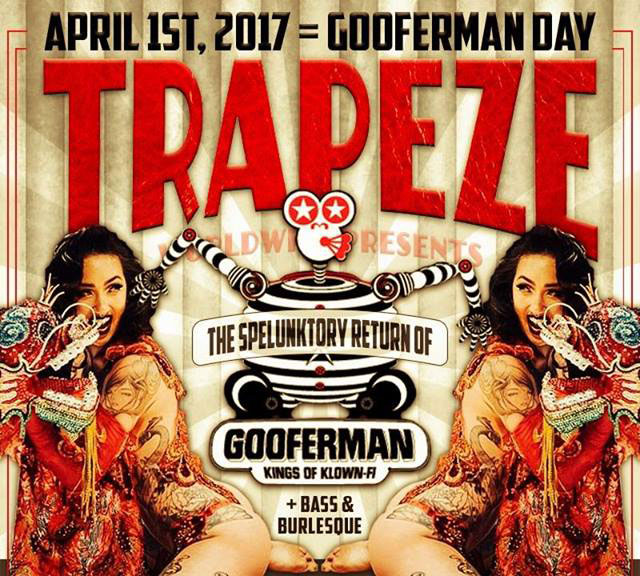 TRAPEZE: GOOFERMAN DAY!
Saturday, April 1, 2017
9 PM - 2 AM/ / 21+
@ The Rickshaw Stop
155 Fell @ Van Ness San Francisco
http://www.rickshawstop.com/

$20 PRESALE / $25 DOOR
BUY TIX: https://www.ticketfly.com/purchase/event/1423330?utm_medium=bks
WWW: http://www.trapezeworldwide.com/
FB EVENT: https://www.facebook.com/events/1439828052742772

It's been called a lot of things: April Fool's Day, St. Stupid's Day, the First Day of Spring, the birthday of the infamous medieval Japanese Emperor Go-Saga. The list goes on and on, and all of its timeless titles have been obsequiously bequeathed with passionate palaver and the noblest of triviality. But one curious promulgation stands alone. In 2006, the (then) mayor of San Francisco, Gavin Newsome, put the firmest of fealty on this most auspicious day by declaring April 1st Gooferman Day (with an International Circus Appreciation Day corollary). So it was written, so shall it be!

So it is... on April 1st, Trapeze Worldwide is mighty proud to welcome back to the stage The Klown's electrofunkrock musical adventure, THEE ONE, THEE ONLY.. GOOFERMAN!!!

This will be a bombastic no-holds barred banquet of beatitude with the original bohemian kings of klown-fi bounciness! Dress up in your finest and filthiest of formal folly wear and join us for a rare and celebratory episode of stylish absurdity! Get in quick as THIS WILL ERRRUPT!

Additional mirth and melody provided by Trapeze beat slingers:
~ San Francisco's Sonic Blastronaut: DELACHAUX (DirtyVolt Music/SF)
~ Thundering Shnazzter: EZRA CROFT (SF/Speakeasy Syndicate)
~ PLUS Those Hybridized Klowns from Drill & Flag Land:
TRASHKAN MARCHINK BAND

And, of course, see the salacious side of American carnage with Trapeze Ultra Maidens:
MEKA LA CREME - The Forbidden Femme:
REAGAN RIOT - The Courtesan of Cabaret:
FRANKIE FICTITIOUS - Dragon Empress of the Barbary Coast:
DASHA CAYENNE - Hottest Spice on the Rack:
JAY BEE - Vau de Vire Vixen:
FOU FOU HA! - Fabled Fiends and Floozies:

PLUS SEXBOMBE CABARET Femcee: Mz.K

Dopplebanger Vizuals & Dapperocity Abound!

TRAPEZE is a San Francisco-based burst of immersive sound and fury featuring the world's top retro-electro artists and neo-burlesque talent. 'Trapeze feels like Betty Boop threw an acid party.' - SF Weekly 'The crowd itself was a show.' - LA Splash Magazine

5. STEAMPUNK MASQUERADE | UNDER THE BIG TOP - 5.13.17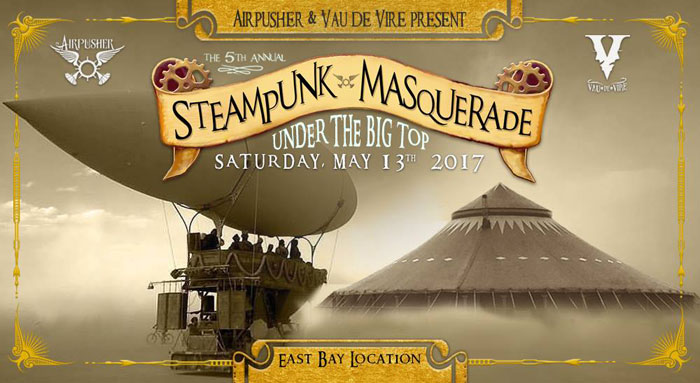 Airpusher Collective & Vau de Vire present...

STEAMPUNK MASQUERADE | UNDER THE BIG TOP
Saturday, May 13, 2017
2:00pm - 2:00am
All ages until 9 pm | 21+ after 9 pm

BUY TIX: https://joynr.co/50837
FB EVENT: https://www.facebook.com/events/260012961116392/
FB AIRPUSHER: https://www.facebook.com/airpushercollective/
FB VAU DE VIRE: https://www.facebook.com/vaudeviresociety/
APPLY TO BRING YOUR ART: https://goo.gl/forms/tMjgNI96I4uwa7lE3

Grab your goggles, shine your boots, and don your finest garb in anticipation of an event experience that you'll never forget! Airpusher Collective is incredibly thrilled to be partnering with Vau de Vire to bring you the fifth installment of the rip-roaring, art infused, steam powered, Burning Man to the Bay experience.

This year we'll be docking the Airpusher Airship in Alameda and getting down all around Vau de Vire's magical and monstrous Italian Big Top for a steampunk meets circus mashup extravaganza!

==== Featuring ====
1 Big Top - 5 acres of Big Art - Parading Art Cars - Multiple Indoor/Outdoor Stages - Play all day | Masquerade at Night - Bad Ass Bands | Ass-Bumpin' DJs - Circus | Burlesque | Fire Performances - On the Water's Edge in Alameda - Artisan Galleries & Gardens - Carnival Rides & Midway Games - Food & Artisan Vendors

==== A Call For Art Installations! ====
Want to bring your big art installation, sculpture, mutant vehicle, or interactive art experience to the Steampunk Masquerade? Apply here! - https://goo.gl/forms/tMjgNI96I4uwa7lE3


6. HOW WEIRD STREET FAIRE - 5.07.17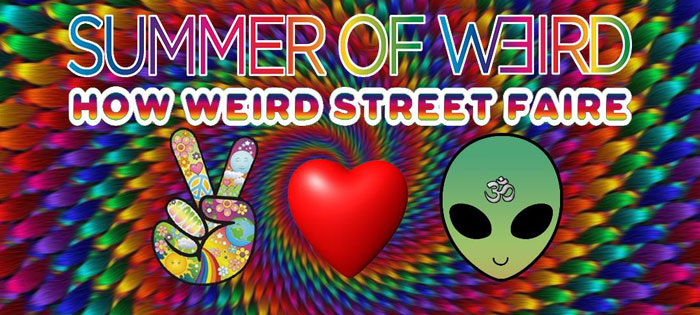 HOW WEIRD 2017 SUMMER OF WEIRD
Sunday, May 7, 2017
Noon to 8pm
Howard & 2nd Streets/ Downtown San Francisco,

The 18th annual How Weird Street Faire will be a tribute to the 50th anniversary of the Summer of Love, and a modern manifestation of the next generation of creative countercultures. Turn on, tune in, and be weird.
WWW: http://HowWeird.org/
FB PAGE: https://www.facebook.com/HowWeirdStreetFaire/
FB EVENT:https://www.facebook.com/events/1809445845983864/

Centered at Howard and 2nd Streets Downtown San Francisco,
Earth $20 for a Magic Button
For more information visit http://HowWeird.org/
There will be dancing in the streets at 11 stages of world-class electronic music, spectacular performances, fantastic foods, unique vendors, visionary art, inspiring creativity, and peace technology exhibits. We join together to celebrate peace, affirm our unity, generate waves of joy, and expand our consciousness. Bring flowers, bring costumes, bring love, bring peace!

The legendary soundtrack to the Summer of Weird will be provided by the CCC, Symbiosis, SomaFM, Muti Music, Enchanted Forest, Northern Nights, Pulse SF, Temple Nightclub, Mountain Lion Hi-Fi, Underground Nomads, Come-Unity, Santa Cruz Cypher Sessions, and more

The theme for 2017 is "Summer of Weird", paying tribute to the cultural pioneers that inspired us and paved the way forward. There are lots of exciting additions to the faire this year! New this year is Green Alley on Tehama Street, opposite of Art Alley. Green Alley is an exhibition of cannabis related products, ecuational opportunities, workshops, and a dub music stage. There will also be a new Circus Alley on Minna Street, featuring aerial performances by Skyhigh Odditorium and a circus lounge by Cirque du Soleil. The stages are being mixed around this year, so expect the unexpected.

MORE ART Art Alley will be overflowing with sensational delights this year, filling Tehama Street from 2nd to 1st Streets. There will be a new interactive craft area from San Francisco's Museum of Craft and Design. Surrounding that will be live and exhibited artwork and local art vendors. At either end of Art Alley will be music stages from historic San Francisco cultural institutions. At 2nd Street there is ambient music from SomaFM, online radio pioneers who will broadcast their music during the day. At 1st Street there is downtempo to psytrance music from the CCC, the artist collective which gave birth to the How Weird Street Faire and the World Peace Through Technology Organization. Otherwise known as the Consortium of Collective Consciousness. At the CCC stage, there will be a historical exhibition showcasing the story of one of San Francisco's great counterculture moments, from 1994 to 2001, and now continuing at How Weird 2017. A REVOLUTION YOU CAN DANCE TO!



7. LIGHTNING IN A BOTTLE - 5.24-5.29.17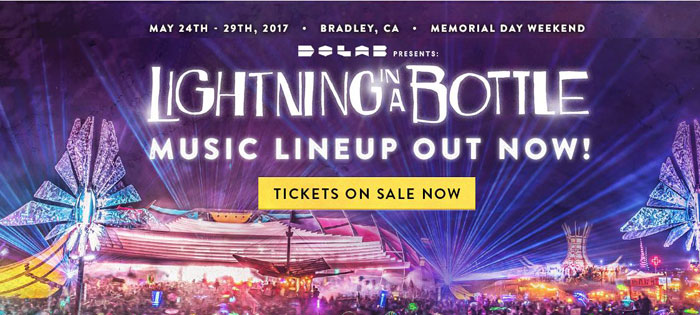 Lightning in a Bottle Arts & Music Festival returns May 24th - 29th, 2017
to the beautiful Lake San Antonio Recreation Area in Bradley, CA.

Get ready for lots of NEW surprises plus the same LIB fun you know and love.
2017 TICKETS ARE ON SALE NOW!

Sign up for our email list to stay updated on all things LIB

Follow us on social media...
FB PAGE: https://www.facebook.com/LIBfestival/
FB EVENT: https://www.facebook.com/events/222640521512945/
TWITTER: twitter.com/LIBfestival
INSTAGRAM: instagram.com/libfestival
SNAPCHAT: snapchat.com/add/libfestival
TUMBLR: lightninginabottlefestival.tumblr.com/
SOUNDCLOUD: soundcloud.com/thedolab



8. ENCHANTED FOREST FESTIVAL - 6.9-6.11.17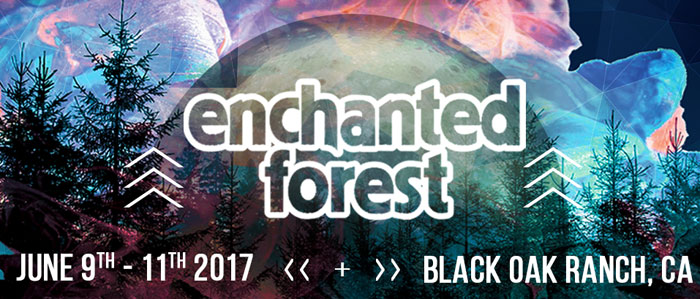 The 7th Annual Enchanted Forest Gathering
returns to Black Oak Ranch in Laytonville, CA on June 9th - 11th, 2017.

Our award-winning festival pairs internationally acclaimed live and electronic music from around the globe with art, workshops, presenters, vendors, comedy, camping and kids activities. Tickets are on sale now at http://www.enchantedforestmendo.com The "Shwirly Bird" tier is on sale now for a limited time only. Follow Us! Stay Connected! We are hilarious!

BUY TICKETS: https://www.eventbrite.com/e/enchanted-forest-gathering-2017-tickets-31686701778?aff=efbevent
WWW: http://www.enchantedforestmendo.com
FB EVENT: https://www.facebook.com/events/1806870152899082/
FB PAGE: https://www.facebook.com/EnchantedForestGathering/
TWITTER: https://twitter.com/enchantedmendo
INSTAGRAM: @enchantedforestgathering
EMAIL:info@enchantedforestgathering
w/ questions or requests for assistance in purchasing your ticket.