1) ARTUMNAL GATHERING 2017 - 11.18.17
2) DARK KABARET - 11.17-11.25.17
3) SUNDAY SKOOL/ JAZZ MAFIA & VAU DE VIRE - 11.19.17
4) ANONEVENTS EVENT DESIGN SERVICES - Now!
5) YARD DOGS ROAD SHOW MOVIE STREAMING - Now!
6) TRAPEZE: BARRELHOUSE BURLESQUEROTTI (Sebastopol) - 12.02.17
7) FUTURE OF MONEY & TECHNOLOGY CONFERENCE - 12.04.17
8) PEE-WEE'S BURLESQUEHOUSE XMAS SPECIAL - 12.08-12.09.17
9) A VERY MERRY MISFIT CABARET - 12.15-12.30.17
10) NEW BOHEMIA NYE - 12.31.17
11) EDWARDIAN BALL (SF) - 1.26-1.27.18


1. ARTUMNAL GATHERING 2017 - 11.18.17



Burning Man's Artumnal Gathering 2017: Point of Enchantment
Saturday, November 18 at 5 PM - 2 AM

@ Alameda Point, 2201 Ferry Point, Alameda, CA 94501
Exquisite Gala Cocktails, Dinner & Live Auction: 5:00 pm
Enchanted Main Event: 9:30 pm

BUY TICKETS: https://burningman.ejoinme.org/MyEvents/TheArtumnalGathering2017/tabid/909181/Default.aspx
WWW: https://en-us.fievent.com/e/artumnal-gathering-2017-point-of-enchantment/12438029
FB EVENT: https://www.facebook.com/events/692107314319812/

Join Burning Man Project in celebrating the art, artists, and communities of the worldwide Burning Man culture!

We invite you to a place of living imagination, where reality has been pried open and infinity is our alarm clock. A place where shadow and light dance a tango and a big top tent cloaks a bejewelled forest of art treasures and nested dreams. We invite you to this magical point, where imagination grows on trees, enchanted creatures dwell, and we will share our gifts in a lavish world of our own conjuring. A place of mysterious beauty and abundant being. This year's Artumnal Gathering will take place beneath a captivating canopy of indoor tented expanses.

Your spirited participation will bring this mystical vision to life. Join us for a delectable feast during a gala dinner and live auction or ignite your creative senses at the main event and late evening celebration.

Your generosity will fuel the ongoing mission of the Burning Man Project, a nonprofit organization. Burning Man believes in a world of creativity, participation, and self-expression. Every day we provide resources and education to empower and inspire the regional community, artists, volunteers, participants, and our global citizenry.
2. DARK KABARET - 11.17- 11.25.17

DARK KABARET
FRIDAY & SATURDAY NOVEMBER 17 & 18 & NOVEMBER 24 & 25, 2017
@ The Great Star Theater
636 Jackson St,
SF, CA 94133

Doors at 7/ Band Starts at 7:45/ Show at 8pm

BUY TIX: https://www.eventbrite.com/e/dark-kabaret-tickets-38603452967/
FB EVENT: https://www.facebook.com/events/349106195534667/

Discover something new. Come to Dark Kabaret, San Francisco's premiere showcase for the world's finest variety artists. It's a decadent evening in a hundred year old Chinese Opera house with almost as much entertainment in the audience as on stage. 

Your host, Paul Nathan (HBO, MTV, Star Trek Voyager), welcomes you to an evening of unbridled passion, music, humor, and artistry. The band is the sexiest you will ever hear. Your host travels the world gathering together top artists for this spectacular show.
Each show is special. Different music, different acts each night.

Special guests. Beautiful Jewels - Berlin Mike Davis - Broadway and SNL Frank Olivier - Tonight Show Apathy Angel - New York - World Champion Burleqsue Dancer Matt Finish - Top Male Burlesque artists in the world Week 1 Yuko - Japan Week 2 Deven Green - Youtube Sensation

Get your tickets now for this special evening of Absinthe, and popcorn, music and magic, comedy and thrills. This San Francisco only event comes once a year. The perfect mixture of sumptuous Abinshte, beautiful gowns, and gentlemen in their finest frocks.

Dark Kabaret is the place to bring a first date or to take your BFFs for a perfect night out. Timeless and timely treat yourself to the sweet nexus of magic, comedy, music, and erotic entertainment. Get your tickets now as the show does sell out. 


3. SUNDAY SKOOL - JAZZ MAFIA & VAU DE VIRE - 11.19.17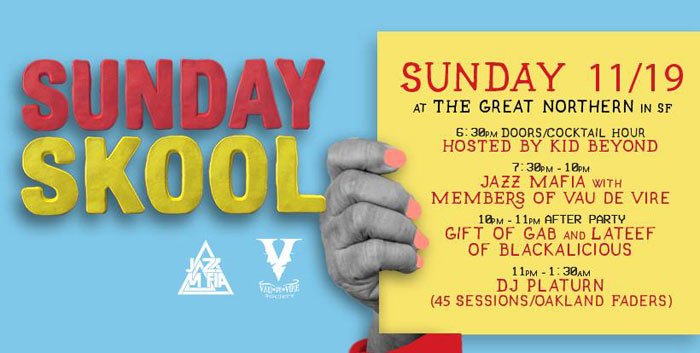 Sunday Skool: feat. Jazz Mafia, Vau De Vire, Gift of Gab, Lateef
SUNDAY NOVEMBER 19, 2017
@ The Great Northern
119 Utah St.
SF, CA 94103

7:30 PM-1:30 AM
21+

BUY TIX: https://www.ticketfly.com/purchase/event/1587895
FB EVENT: https://www.facebook.com/events/126937174630950/

Sunday Skool is a new series presented by Jazz Mafia and Vau De Vire Society exploring new dimensions in sound and visual experience.
For any of you who witnessed the Treat Social Club series from 2012-2016, this collaboration picks up where that left off and takes things in even more unexpected places. For a year we've been searching for the perfect venue and as soon as we saw Great Northern, we knew this was it. This club is one of the coolest new spots in the Bay; Killer sound system, large stage, top notch lighting, stage surrounded by projection, beautiful architecture, asymmetric room layout, multiple aerial performance points and much more. perhaps most important, the venue is excited for us to use the room in new and unexpected ways, which is really the key for doing the sort of immersive/multi-faceted performance that we came to be known for at Treat Social Club.
For this kickoff show, we're going big. For the "show" that happens from 7:30-10pm, we've got the same 10 piece Jazz Mafia ensemble that tore it up in Oregon this summer at the Eclipse Festival. From Vau De Vire, we have 8 of the Bay Areas top Circus Arts performers doing aerial, pole, contortion and all that craziness. At 10pm after the immersive show, we switch into afterparty mode with Gift of Gab and Lateef from Blackalicious backed by Jazz Mafia followed by DJ Platurn finishing the night off. The night is hosted by Kid Beyond and promises to be unlike anything you've ever experienced! Dress up pretty.
4. ANONEVENTS - HOLIDAY EVENT DESIGN SERVICES NOW!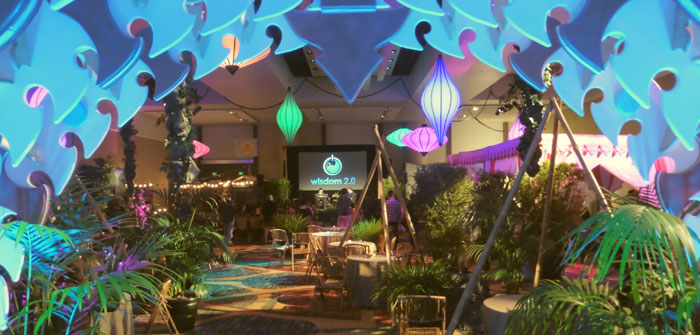 PUT THE ANON SALON TOUCH ON YOUR UPCOMING HOLIDAY AND 2018 EVENTS!

Let Anon Events/Climate Theater handle all of your bar and decorating needs!

We manage everything from permitting to decor and lighting, and can also assist with booking unique musical and theatrical talent.

You know Climate Theater, Anon Salon, and Anon Events from our involvement in large scale productions in the San Francisco Bay Area over the past 30 years, including Sea of Dreams NYE, Hardly Strictly Bluegrass, Wisdom 2.0, How Weird, SuperHero, and Burning Man's Street Fairs.

We can take care of your staff and setup needs for almost any type event. From corporate receptions to art soirees, we've done it all. If you need a friendly, knowledgeable and understanding team of professionals with a solid roster of staff and performers, we're your go to guys.

Utilize our years of experience to make your event space look spectacular and let us know how we can help bring your vision into reality.... Wishing you a wonderful Holiday season and a great start to 2018!

Anon Events/Climate Theater: Joegh Bullock & Laird Archer

http://anonevents.com <=• | •=> http://climatetheatre.com
5. YARD DOGS ROAD SHOW MOVIE STREAMING - NOW!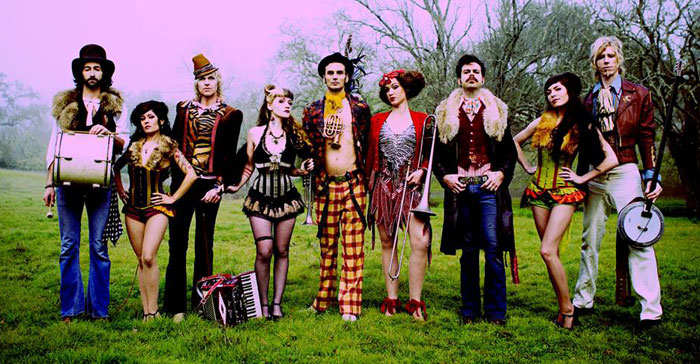 If you like many, miss the Yard Dogs Road Show... or if you missed them altogether, they're back in movie form, now available for streaming or purchase @

https://vimeo.com/ondemand/yarddogsroadshow

It's a really wonderful film put together by Flecher Fleurdujonn and Little Macho from footage that Flecher shot over the course of freakin' years...

It's the story of a gang of poets, artists, dancers and musicians who turn a pile of puppets, an abundance of creativity and a yen for adventure into an international touring "vaudeville" show. These guyz & galz ... rocked the Bay and beyond in big, fun and sexy ways.
6. TRAPEZE: BARRELHOUSE BURLESQUEROTTI - 12.02.17



DirtyVolt & jUkE jOiNt Present:
Trapeze: Barrelhouse Burlesquerotti!
Saturday, December 2, 2017
9PM-2AM 21+

@ HopMonk Tavern Sebastopol
230 Petaluma Ave,
Sebastopol, CA 95472

$10 PRESALE / $15 DOOR
BUY TIX: https://hopmonk-sebastopol.ticketfly.com/event/1536705-trapeze-worldwide-sebastopol/
FB EVENT: https://www.facebook.com/events/1862205457424664/
WWW: http://www.trapezeworldwide.com/

The West Coast's internationally acclaimed bonfire of bass and burlesque returns to Sebastopol with a full tilt frenzy of seismic seduction and ribald boom-boom! Doll-up and dance to the dirtiest decibels on the Barbary Coast with electro-swing-bass circus renegade San Francisco DJs Skyler Gilmore and The Klown, plus local Sonoma spin wizard Malarkey!
Equal parts Weimar cabaret and wild speakeasy dance orgy, Trapeze lures a bevy of underworld flappers, vipers, vamps, and villains to a bass-fueled night of jazz age abandon.

Prepare for Barrelhouse Beatitude with Trapeze DJs
- Funky Big Top Fugitive: THE KLOWN (DirtyVolt Music)
- Sonoma Spin Wizard: MALARKEY (jUkE-jOiNt)
- San Francisco Vaude Villain: SKYLER GILMORE (Ragtime Records)
Sweltering hot performances with burlesque grenades
- Torrid Tiki Temptress: TANA THE TATTOOED LADY (Las Vegas)
- Bump n' Grind Super Banshee: ANGELIQUE D'VIL (Portland)
- Smoldering Darkstress: JAIN DOWE (SF)
- Miss Thrill: MOJO DEVILLE (Oakland)
- Mermaid of Enchantia: BO VIXEN (SF)
- The Towering Tease: DORIAN DIETRICH (SF)

Plus your host from Tinsel Town and Beyond, Lunar Crooner: GARY UNDERPANTS (Hollywood)

TRAPEZE is a San Francisco-based burst of immersive sound and fury featuring the world's top retro-electro artists and neo-burlesque talent.

'Trapeze feels like Betty Boop threw an acid party.' - SF Weekly
'The crowd itself was a show.' - LA Splash Magazine

7. FUTURE OF MONEY & TECHNOLOGY - 12.4.17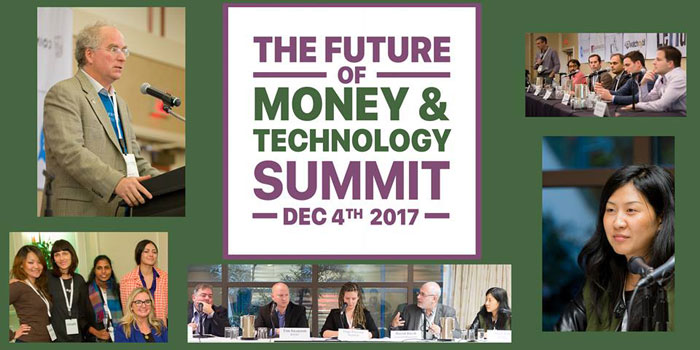 Future of Money & Technology Summit 2017
Monday, December 4, 2017
8 :30 AM - 8 PM

@ Hotel Kabuki
1625 Post St.
SF, CA 94115

BUY TIX: https://www.eventbrite.com/e/future-of-money-technology-summit-2017-tickets-32641553766 FB EVENT: https://www.facebook.com/events/1821371354847186/
FB PAGE: https://www.facebook.com/futureofmoneytech/
WWW: http://www.futureofmoney.com

The Future of Money & Technology Summit (in its 7th edition) brings together the best and brightest thinkers and doers around money, including visionaries, startups entrepreneurial business people, developers, press, investors, authors, solution providers, service providers, and organizations who work with them at the convergence of cash and commerce. We meet to discuss and do business around the evolving money ecosystem in a proactive, conducive to dealmaking environment, covering everything from the FinTech Investment Climate, New Banking Models, Mobile Payments to Bitcoin and more!
8. PEE-WEE'S BURLESQUEHOUSE XMAS SPECIAL - 12.08-09.17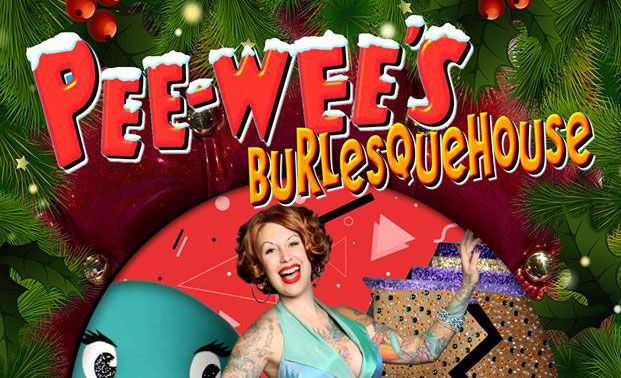 Pee-Wee's Burlesquehouse: The Christmas Special
Fri. Dec. 8 & Sat. Dec. 9, 2017
8pm
@ The Great Star Theater
636 Jackson Street
SF CA 94133

BUY TIX: https://www.eventbrite.com/e/pee-wees-burlesquehouse-the-christmas-special-tickets-38063183005
FRIDAY FB EVENT: https://www.facebook.com/events/476995942674722/
SATURDAY FB EVENT: https://www.facebook.com/events/180784259165913/

This is A Pee-Wee's BurlesqueHouse Christmas Special you don't want to miss! Get ready to see what PeeWee's Playhouse would look like if you combined a pinch of Burlesque, a spot of Drag, a dollop of Circus, a taste of Tease, and a heaping spoonful of Holiday Cheer.

If you were with us in April, you know the excellence ahead, if you're a PeeWee's BurlesqueHouse first timer, get ready for the show of your life!

Hosted by the world famous Tana the Tattooed Lady (Planet Hollywood LV), and produced by Ivizia Dakini (Queen of Roses ORBF and Miss Exotic Oregon 2016) this show stars SF circus stars Prince Xzist and MeeZee as well as the famed and fabulous Portland stars of the stage.

This show encapsulates ALL the magic you remember from the TV series with ALL the sexual innuendo, explicitness, and raunch that kept you tuning in again and again! Hold on tight to your hobby horses, the journey is about to begin as all of your playhouse fantasies are brought to LIFE in front of your very eyes in the ultimate tribute to your favorite 80's television show and the one Holiday Party you DON'T want to miss.

What will Pee-Wee's Christmas Wish be? What Chanukah treats will we be serving you at the Playhouse? What do Miss Yvonne and Tito wear while trimming the tree? What magical dreams come to life when Conky, Cowboy Curtis, the King of Cartoons, Captain, Carl, Penny, Randy and more descend on the Playhouse for the wildest Holiday celebration ever to be too hot for TV!
9. A VERY MERRY MISFIT CABARET - 12.15-12.30.17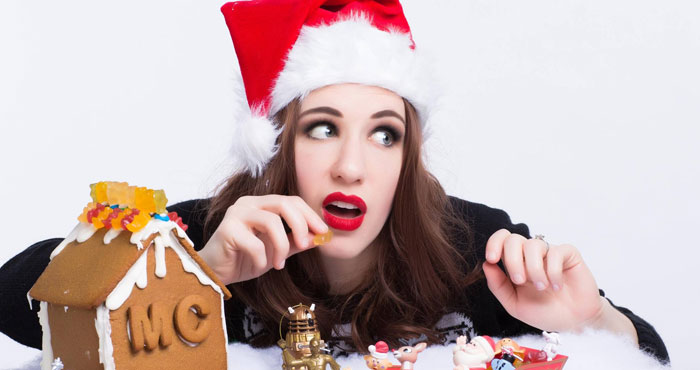 A VERY MERRY MISFIT CABARET
THREE DECEMBER WEEKENDS
Fri & SAT 15 & 16, 22 & 23, 29 & 30, 2017
8 pm
@ The Great Star Theater
636 Jackson Street
SF, CA 94133

BUY TIX: https://www.eventbrite.com/e/a-very-merry-misfit-cabaret-tickets-35947383592
FB EVENT: https://www.facebook.com/events/180839462478007/
FB PAGE: https://www.facebook.com/misfitcabaret/
WWW: https://www.katrobichaud.com/

Grab your early-bird discounted tickets while they last! USE THE CODE "EARLYBIRD"
FOR ACCESS TO EARLYBIRD TICKETS, AVAILABLE UNTIL NOVEMBER 15th

What do Star Wars, Gremlins, and Clark Griswold have in common? Find out at our next variety show A Very Merry Misfit Cabaret! Campy, decadent, and a little bit naughty, the holidays will never be the same!

Celebrate the holidays with friends and loved ones at Kat Robichaud takes on every Christmas Special from your childhood. With a rotating cast of stunning performers including burlesque by the reigning queen Ms. Viva Las Vegas Frankie Fictitious, drag by the incomparable Carnie Asada, a gremlin or two, and Musical guest Kendra McKinley.

Drawing on the momentum from a Top 10 spot on NBC's The Voice, as well as more than a decade of experience working in the music industry, singer Kat Robichaud brings her band Darling Misfits to The Great Star Theater for Misfit Cabaret, an exciting blend of musical theater, rock 'n' roll and vaudeville. Robichaud and her band create a night of decadence, bawdiness and damsels (not) in distress, complete with everything from burlesque to drag to circus to magic.

For each new show, Robichaud writes two original songs keeping with the theme of the evening (this month: A Very Merry Misfit Cabaret), as well as a special medley to kick off the evening. Imagine a place where your darkest dreams bloom into thrilling life -- that's what Misfit Cabaret is all about.

10. NEW BOHEMIA NYE @ THE MINT - 12.31.17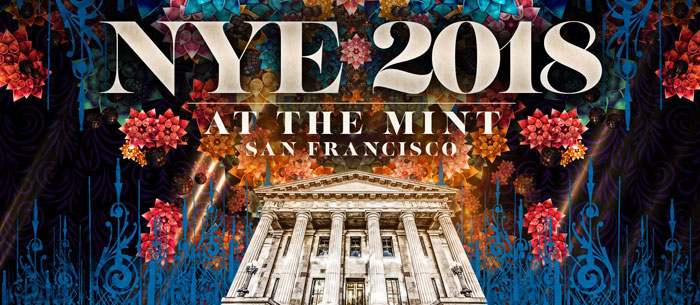 New Bohemia NYE 2018 at the Mint
Sunday, December 31, 2017
9 PM - 3:30 AM

BUY TIX: https://www.ticketfly.com/event/1588729
FB EVENT: https://www.facebook.com/events/369950583450866/
FB PAGE: https://www.facebook.com/newbohemianye/

New Bohemia NYE 2018 is back at the beautiful Mint presented by
Vau De Vire Society, Opel Productions and friends!

At the Mint, you'll ring in the New Year with SF's most eclectic community of Dj's, performers, live musicians, thespians, dancers, artists and beautiful and comical characters. Everything you need to know for what we'll be creating again, can be seen in how it looked last year here so check it: https://vimeo.com/199747348

15 DJ's + live acts on 4 dance floors. There will be 13+ Activated Thematic environments on 2 floors to explore with ambient roaming spectacle, interactive games, cleansing rituals, burlesque, avant-garde performances, aerial, pole dancing, bondage demos, a video mapped inner courtyard, a large art gallery, belly dance & other ethic/world dance, chill spaces, make out rooms, a red light district, photo booth, and other surprises in the dark corners of The Mint.

Music from your favorite Burning Man crews, and more in the works
- WOW! CAST of Music & Primary Spectacle - VAU DE VIRE SOCIETY
- SYD GRIS (Opel / Opulent Temple)
- ALEX SIBLEY (Intec / Stereo)
- ROOZ (Deep Blue)
- ERIC RIGGSBEE (Faultline, Select Start)
- LIQUID LOVE DROPS (Club Exotica)
- NONA FENDER & THE BENDERS
- BRIAN WILLIAMS (Opulent Temple)
- CPTN JAY (Airpusher)
- jæ (Airpusher)
- OONA X (Opulent Chill)
- CONANDRUM (Vau de Vire)
- FILTHY MITCH (Opulent Chill)

Cast of PERFORMING ARTISTS & Room Hosting - VAU DE VIRE SOCIETY - GRUMPY PRINCESS - NONA FENDER & THE BENDERS - Live - OPULENT CHILL - CLEANSING RITUAL by Lucid Dawn, Eenor & Spirit Family - METZALLI A FORTUNETELLER VISUAL /Visuals by Viberations/ INSTALLATION ARTISTS

MORE coming soon
Private VIP rooms available upon request - Ask us!
Still more will be added every week!

2017 VIDEO: https://vimeo.com/192827732
2017 Photos: http://www.facebook.com/pg/opelproductions/photos

Want to get involved? We 're looking for volunteers, artists, performers and theme camps who want to co-create! Contact- syd@opelproductions.com or write us through our FB page: facebook.com/opelproductions
11. THE EDWARDIAN BALL - 1.26 & 1.27.18

The Edwardian Ball returns to the magical Regency Center for two nights
and two day events as well.
The Edwardian Ball
January 26th & 27th
@ The Regency Ballroom
1300 Van Ness Ave.
SF, CA 94109
(8pm-2am)

WWW: https://www.edwardianball.com/

• The Edwardian World's Faire 2018 SF/ Friday, January 26, 2018
BUY TIX/ FRIDAY: https://www.ticketfly.com/purchase/event/1586759
FB EVENT (Friday): https://www.facebook.com/events/726962697498399/

• The Edwardian Ball 2018/ Saturday, January 27, 2018
BUY TIX/ SATURDAY: https://www.ticketfly.com/purchase/event/1586764
FB EVENT (Saturday): https://www.facebook.com/events/687574084783479/

• TWO DAY TIX: https://www.ticketfly.com/purchase/event/1587487

• JAN 27 Edwardian Ball Vendor Bazaar - Daytime Shopping (noon-5pm)
BUY TIX: https://www.ticketfly.com/purchase/event/1586785
FB EVENT: https://www.facebook.com/events/518039225221417/

• JAN 27 Afternoon Tea in The Museum of Wonders/ 2pm-4pm
BUY TIX: https://www.ticketfly.com/purchase/event/1586767
FB EVENT: https://www.facebook.com/events/142630189701361/