1. VAU DE VIRE'S "THE SOILED DOVE" - through 11.17.18
2. BAY AREA BURLESQUE CALENDAR - OCTOBER
3. MYSTIC MIDWAY/ WINCHESTER MYSTERY HOUSE - OCTOBER
4. DRACULA'S GUEST - 10.13.18
5. MATT VENUTI PLAYS MILL VALLEY- 10.14.18
6. BM DECOMPRESSION/ SF- 10.20.19
7. EAST BAY MINI-MAKER FAIRE - 10.21.18
8. EDWARD GOREY/ NEGLECTED MURDERESS - 10.26.18
9. DUSK TO DAWN HALLOWEEN/ VDV/ OPEL - 10.27.18
10. JAZZ MAFIA ACCOMPLICES/ SFJAZZ - 12-9.18


1. VAU DE VIRE'S "THE SOILED DOVE" - through -11.17.18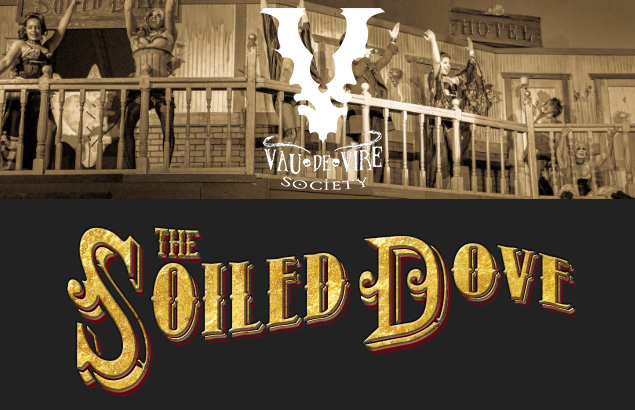 Vau de Vire and Oakland Central present The Soiled Dove!

A circus-infused dinner theatre set in a reincarnation of Barbary Coast's red light district.
Friday & Saturday Nights from
Through November 17, 2018

@ Tortona Big Top
1911 Telegraph Ave.
Oakland, CA 94611
MAP

7:30pm (Dinner & Show) & 9:00pm (Show)
Ages 21+

BUY TICKETS:http://bit.ly/TheSoiledDoveTickets
$49 Show to $137 Dinner & Show (includes 4-course dinner)

FACEBOOK EVENT: https://www.facebook.com/events/244192556400830/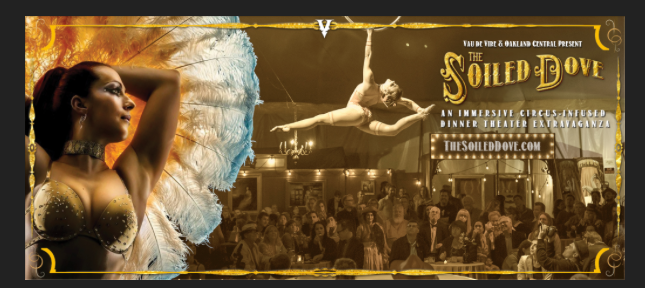 From The Vau de Vire Society, co-creators of the world-renowned Edwardian Ball, Lagunitas Beer Circus, Phantasm Halloween, New Bohemia NYE, and a decade of The Bay Area's most creatively outrageous nightlife events comes an immersive, circus-infused historical dinner-theater experience that will titillate your every sense!

The Soiled Dove graces Downtown Oakland September 28th with shows every Friday and Saturday evenings through November 17th under Vau de Vire's massive 12,000 sq. ft. Italian Big Top... Yes, that's a 12,000 sq ft Big Top, Circus tent erected in heart of Downtown Oakland for 2 months.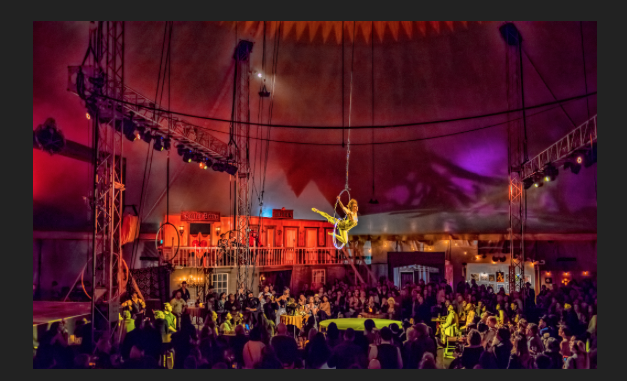 To enter The Soiled Dove, is to step back into another world, inspired by the Bay Area's notorious Gold Rush & Barbary Coast era. A fully built-out 19th-century outpost of decadence and delights, a replica of a 19th century Oakland saloon and dancehall, replete with all its characters and misfits. An evening filled, with decadent culinary creations served alongside world-renowned performances accompanied by a 10 piece live orchestra with surprise musical-guest cameos each evening.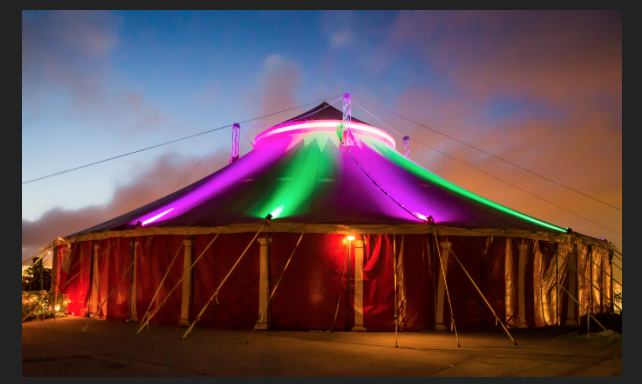 Director/producer of The Soiled Dove, Mike Gaines says, "The Soiled Dove features over 40 performers and musicians collaborating to help transport guests back to the Barbary Coast circa 1890." Gaines explains how he and wife Shannon (Vau de Vire Society choreographer) found the Tortona Big Top, "After literally scouring the world high and low for exactly the right fit, serendipity led us to the Italian countryside where we discovered the beautiful and magical Tortona – a 12,000 square foot circus tent with ultimate charm and pizazz. Inside we've built an intimate and exciting depiction of a happening saloon & Dance Hall set in Oakland circa 1890.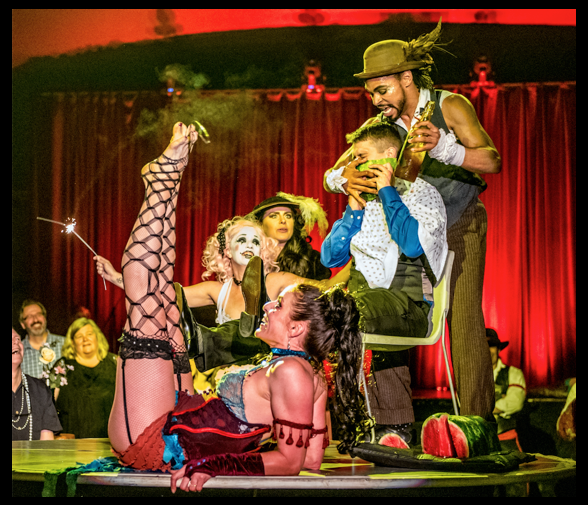 The venue is adorned with multiple performance stages, a 50' ceiling offering the canvas for an array of aerial feats, a tent-wide gallery of local artisans, sprawling lounges, craft vendors and expansive libations bar perfectly designed for illicit escapades."

The Soiled Dove guests are treated like royalty by the most enticing courtesans on the Barbary Coast serving up an innovative 4-course food experience by the Bay Area-based, produce-focused Work of Art catering collective. Work of Art's forward thinking and sustainable menus will be paired, with bespoke tantalizing libations at the Soiled Dove Saloon.

Every night The Soiled Dove welcomes guests to depart from the mundane, enjoy and explore a scandalous and sexy chapter in Bay Area history. Attendees are encouraged (but not required) to submerge themselves in the revelry by putting a little (or a lot) of effort into their attire…styles that cover Victorian, Edwardian, 49er, Harlots, Crimps or one's most stylish period couture.

Important Links:
The Soiled Dove – http://www.thesoileddove.com
The Soiled Dove Facebook - https://www.facebook.com/thesoileddove/
The Soiled Dove Instagram: https://www.instagram.com/thesoileddove/
Vau de Vire Society: http://vaudeviresociety.com
VdV Facebook: https://www.facebook.com/vaudeviresociety/
Oakland Central: http://oakandcentral.com
Oakland Central Facebook: https://www.facebook.com/oakcentral/
Work of Art Cateringt: http://www.woacatering.com
JAZZ MAFIA: http://www.jazzmafia.com
JAZZ MAFIA FACEBOOK: https://www.facebook.com/thejazzmafia
2. BAY AREA BURLESQUE - OCTOBER 2018

BAY AREA BURLESQUE - OCTOBER 2018


| | |
| --- | --- |
| | Here's Vixi Vale with the hottest way to wrap up September and to look forward to October. |
Ahoy, burlesque fans! Our calendar is full of fantastical ecdysiastical events this Fall!

• Sat., 10/6 - BOOTIE @ DNA Lounge, SF*
• Fri. 10/12 - Hubba Hubba Revue's "Vampires"
@ DNA Lounge, SF [BUY TIX]

• Mon., 10/15 - Monday Night Hubba Upstairs (Every Monday!)
@ DNA Lounge, SF [BUY TIX] *

• Thurs. 10/18 - The Starlight Room Cabaret presents "Let's Misbehave", a spectacular celebration of the 90th birthday of the historic Sir Francis Drake Hotel! Dance party featuring DJ sets by Limbs Akimbo and The Klown plus Bay Area burlesque beauties at The Starlight Room, SF* [BUY TIX]

• Sat., 10/20 - Bunny Pistol's Bang Bang Cabaret
@ The RIC, 5515 College Ave, Oakland [BUY TIX]

• Thurs, 10/25-11/3 - Kat Robichaud's "Very Scary Misfit Cabaret"
@ Z Space, SF (Tickets: [BUY TIX]

• Sat. October 27 - Hubba Hubba Revue's Halloween Bash at
@ The UPTOWN, Oakland [BUY TIX]

• Mon., October 29 - Burlesque and book signing with Leslie Zemeckis
for her new release, "Feuding Fan Dancers" @ Make-Out Room, SF*

Catch VIXI live and in the flesh at the events with asterisks, and follow her online for more from the front lines of our fast-moving, booty-shaking, mind-blowing Bay Area burlesque scene!

3. MYSTIC MIDWAY @ WINCHESTER MYSTERYHOUSE - OCT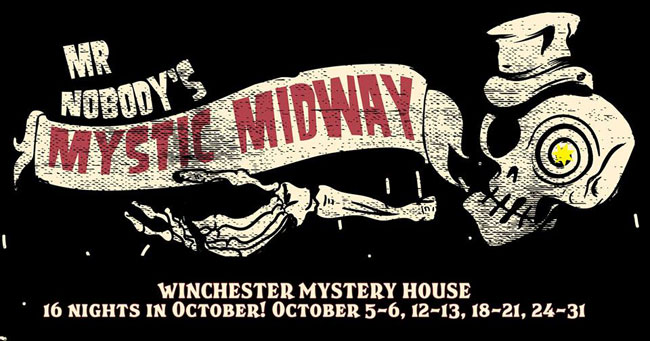 MYSTIC MIDWAY: WINCHESTER MYSTERY HOUSE

16 nights in October! October 5-6, 12-13, 18-21, 24-31

@ Winchester Mystery House
525 S Winchester Blvd.
San Jose, CA 95128

FB EVENT: https://www.facebook.com/events/249033399088576/

BUY TICKETS HERE:
https://bit.ly/2Nmlunq

MR. NOBODY hosts a VERY SPECIAL Mystic Midway appearance by request of Sara Winchester herself! UNLOCK the SECRETS of THE MIDWAY! STRANGE! THRILLING!

FEATURING:
• Nightly Featured Entertainment hosted by MR.NOBODY!
• Immersive Midway Quests & Prizes! • Carnival Games!
• Fortune Tellers! • Spooky Vendors! • Craft Demos!
• Food & Drink! • Live Music! AND

NOTE: VENDORS, crafts folks, Halloween-season craft demos, Immersive Actors, Entertainers with 'Vintage-Spooky-Classy' content, please contact scott@mysticmidway.com for all inquiries.


4. DRACULA'S GUEST - 10.13.18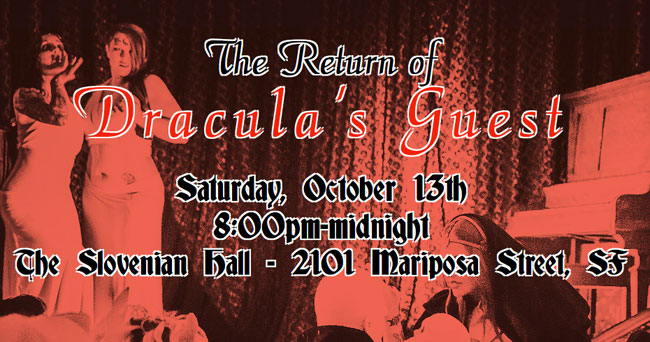 Paradox Media & Dracula present

DRACULA'S GUEST
Saturday October 13, 2018

Doors: 8:00 PM - Midnight

@ Slovenian Hall
2101 Mariposa St
San Francisco, CA
MAP

BUY TIX: https://www.ticketfly.com/purchase/event/1763613?utm_medium=bks
FACEBOOK EVENT: https://www.facebook.com/events/302523020527549/

Magic. Seduction. Wine. Dance. Concert Piano. The Crystal Ball. Mystery. Shrouded in Elegant Darkness.

Your esteemed host, Count Dracula, cordially invites you once again to his western abode, San Francisco's Slovenian Hall.

His intimate dwelling will be home to an up-close evening of music and variety, libations from Vlad's Bar, and sweet delights from the Vampire Kitchen.

This happens one night only, and tickets are very limited.

Reserved seating includes a bottle of our most delicious and very-limited-edition Edwardian Ball private label wine (2013 Alexander Valley Malbec).

Come close, beckons Dracula. Be my guest.

Featuring Zoe Jakes, John Morgan, Fact50, Joe Culpepper, Tyger's Elemental Readings
5. MATT VENUTI PLAYS MARIN COUNTY - 10.14.18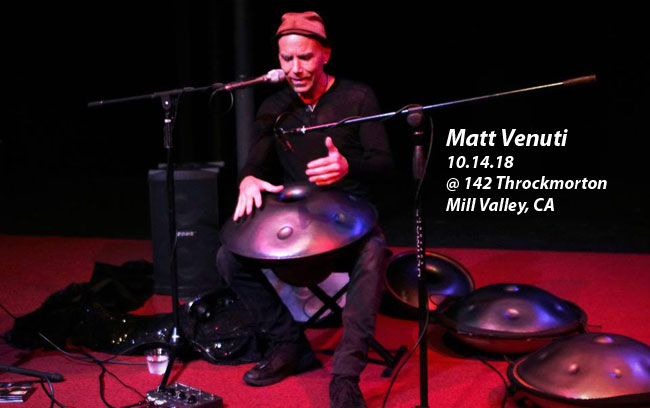 Matt Venuti performs in Mill Valley

Sunday, October 14, 2018
7 PM – 9 PM
@ 142 Throckmorton Theatre
142 Throckmorton Ave.
Mill Valley, California 94941

BUY TIX: https://bit.ly/2xXMi8F
FB EVENT: https://www.facebook.com/events/426354971225601/
FB PAGE: https://www.facebook.com/mattvenuti/
WEBSITE: http://www.mattvenuti.com

Some know Matt Venuti from his longtime cosmic world-music band, The Venusians, that graced amny an ANON SALON....Others know him from his multiple TED and TEDx appearances, or from his years of touring as a singer-songwriter-storyteller who plays the coolest acoustic and electronic instruments this side of Venus.

In his show at the Throckmorten, expect a blend of all the above, including guest appearances from some of his bandmates. Matt tells an original story from "the rhythm of life"; an honest, soul-filled and often humorous musical journey of captivating songs, poetic lyrics and lessons from the heart of the road.

Matt plays rare and captivating melodic-percussive acoustic instruments created in Switzerland, as well as the highly expressive and dynamic Electronic Valve Instrument (EVI) wind synthesizer, He was among the earliest players to explore these instruments and share them with the world.
This summer he returned from Switzerland with 4 of the latest creations by PANArt, the makers of the Hang, Gubal and now an entire family of awesome and innovative instruments.

WATCH VIDEO: https://youtu.be/MiW4g6wXEL0

"A soul-stirring Maestro who invokes the essence of love into his music"
- Jill Lawson, HuffPost

"Awe-inspiring and unforgettable" - Music Industry News Network

6. BM DECOMPRESSION 2018 - 10.20.18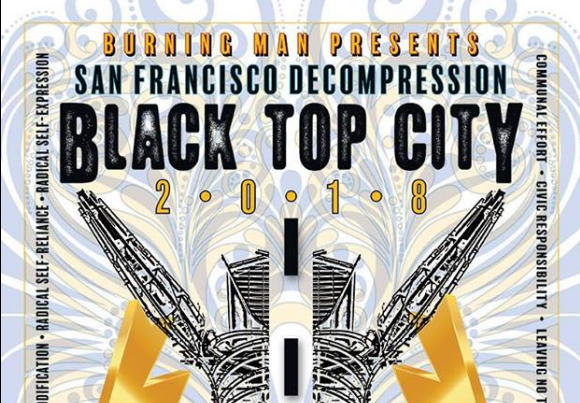 Burning Man SF Decompression 2018: Black Top City!

Oct 20 at 2 PM – Oct 21 at 2 AM
@ Potrero Power Station
420 23rd St.
SF, CA 94107
MAP

All Ages welcome!

Tickets $25-30 advance, $35 at the gate / Kids under 12 free!
BUY TICKETS: https://eventstickets.burningman.org/purchase/event/1728829
FACEBOOK EVENT: https://www.facebook.com/events/2132803460377698/

Bring the spirit and imagination of Black Rock City to the Bay and help create the 2018 incarnation of "Black Top City" — an urban version of Burning Man along the historic Bayshore waterfront at the historic Potrero Power Station, here!

Our community will once again create a wonderful microcosm of BRC, with art, mutant vehicles, theme camps, inner- and deep-playa, performance, and discovery – in a black-top setting at a brand new location! We'll have even more extra setup and strike time, so together we will take the art and theme camp participation to the next level!

We want to hear from participants ASAP to make this the best Decompression ever!

Theme camps and sound camps, art, fire art, art cars and mutant vehicles – let us know what you'd like to share by filling out our Decompression Participation Questionnaire: 
http://www.surveygizmo.com/s3/4388782/2018-Decompression-Questionnaire

PERFORMERS of all stripes, musicians, bands, dancers, DJs, variety acts, fire performers – please complete this quick Decompression Performer Submission Form: 
https://bit.ly/2NgfoWd

Just like creating BRC, Black Top City is built with love by VOLUNTEERS!
Decompression happens through dedicated volunteer efforts, cooperation, gifting, and community in action. Sign up with our Volunteer Participation Form: http://bit.ly/2A1kjbH
Become a part of the Burning Man Community Events team, and help create the wonder of Black Top City!


7. EAST BAY MINI-MAKER FAIRE - 10.21.18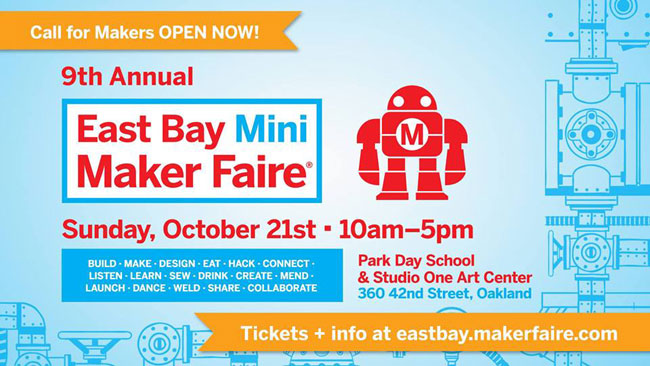 East Bay Mini Maker Faire 2018
Sunday, October 21, 2018
10 AM – 5 PM

@ 360 42nd St. Oakland, CA 94609

BUY TIX:https://www.eventbrite.com/e/east-bay-mini-maker-faire-2018
FACEBOOK EVENT: https://www.facebook.com/events/242464873068052/

Please join us for the 9th Annual East Bay Mini Maker Faire at the beautiful Park Day School campus and the adjacent campus of Studio One Arts Center in the Temescal district of Oakland.

. This event has become a major annual event in the San Francisco Bay Area, drawing nearly 7,000 attendees last year. It mirrors the giant "flagship" Maker Faire in San Mateo, but more focused on local projects and hands-on making.

This event is perfect for artists, makers, educators, and innovators and given its scale, ideal for the whole family.

8. GOREY/ NEGLECTED MURDERESS - 10.26.18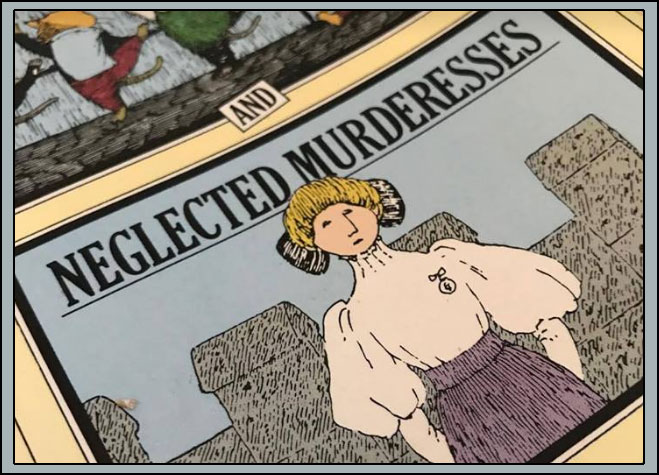 Neglected Murderesses, or, A Very Gorey Halloween
Friday, October 26, 2018

@ Cat Club
1190 Folsom (@ 8th)
SF, CA
9pm-3am
21+

BUY TIX: https://www.ticketfly.com/purchase/event/1766857
FB EVENT: https://www.facebook.com/events/732665910418912/
WEBSITE: https://www.paradox-media.com/upcoming-events

Let's celebrate the start of The Edwardian Ball's 2019 season with a look through the haunted hourglass of time. Follow the creaky wheels of the haunted baby buggy as it traverses the hallowed halls of the Cat Club, birthplace of The Edwardian Ball.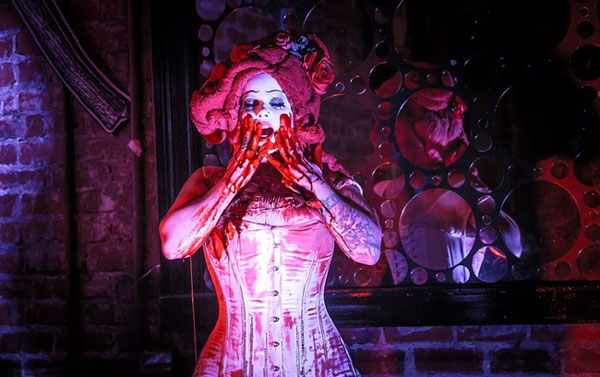 Within, we are deliciously delighted to bring you Chapter III of "A Very Gorey Halloween", featuring the return of Edward Gorey's "Neglected Murderesses" brought to life on stage, an immersive evening of costumes, characters, music, dancing in two rooms all night, and illuminated pop-up theatre to die for.

9. DUSK TO DAWN HALLOWEEN - 10.27.18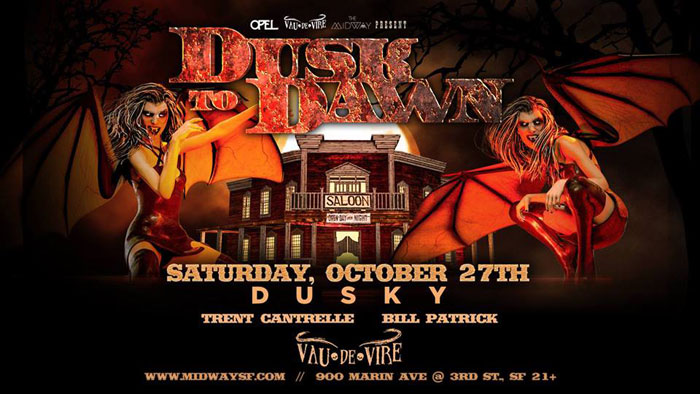 DUSK TO DAWN HALLOWEEN - 10.27.18

Opel Productions, The Midway SF & The Vau de Vire Society present

SATURDAY, OCTOBER 27, 2018
@ THE MIDWAY
5PM - 4AM


BUY TIX: https://ticketf.ly/2MGa55N
FB EVENT: https://www.facebook.com/events/498052653982491/

An 11-hour Halloween Soiree....

From the edge of darkness to the breaking dawn. We have so, SO much more to announce. Calling you Vamps, Mariachi's, Sharp Shooters, and Bay Area quality Freaks of all stripes. We'll bring our high standard party faire we showcased at Phantasm with lots of only-in-SF performance, art, curiosities, spectacle and a dash of kink. Get your tickets now before they go up.

5 ACTIVATED Environments throughout Midway.

IN RIDE: (Main Room/ Opens @ 9PM)
:: DUSKY http://facebook.com/pg/Duskymusic • http://soundcloud.com/duskymusic
:: BILL PATRICK http://billpatrick.com • http://facebook.com/billpatrick.ny
:: LEYL MASTER BLACK http://facebook.com/leylmasterblack • http://soundcloud.com/leylmaster
PLUS MUCH MORE COMING!

IN GODS & MONSTERS
:: TRENT CANTRELLE (Yoshitoshi / Mood) http://soundcloud.com/trentcantrelle
:: SYD GRIS (Opel / Opulent Temple, SF) http://soundcloud.com/syd-gris
• http:// facebook.com/sydgris
:: CLATORIE Mystr Hatchet (Dusty Rhino) B2B Torie (Icarus) http://soundcloud.com/mystr_hatchet soundcloud.com/yotorieee
:: BILLY SEAL (Opulent Temple) http://soundcloud.com/billyseal
:: Kosher Salt Jessica (ICARUS)
http://soundcloud.com/jessicastanell soundcloud.com/noam-turgeman

On the PATIO (Opens at 5PM )
:: VAU DE VIRE SOCIETY Side Shows & Spectacle http://vaudeviresociety.com
:: DARREN GRAYSON (DISTRIKT) http://soundcloud.com/darren-grayson
:: KIMBA (Opel) http://soundcloud.com/kimba-rose

+ Cafe open all night.

THE PATIO opens at 5:00pm (Dusk!) for music, food, games and costume help, with some professional make up artists and face painters on hand to help you with your Halloween look. Live music and DJ's for this portion, and if you come before 9:00pm you'll get a wristband giving you in and our privileges at the venue all night which is good for you party hoppers. (Main room opens at 9:00pm.) Much more TBA ~~

VIP LOUNGE - (w VIP Level Ticket Purchase) -Express entrance at own door -Exclusive access to Private Lounge with Kink vibes with Live Bondage & Rope Artists, Hot, Fresh & fancy finger foods served throughout the night, private bar with 1 premium drink ticket given with VIP ticket purchase, unique art, performances, eye candy and spectacle in the tradition of the VIP Opel & VdV did on the Upper Floor of the Armory

In the GALLERY - Creepy and real bio specimens in jars on loan from the California Academy of Sciences! - Unique art collection curated just for this weekend.

Dusk to Dawn is a new venture brought to you by Opel Productions & The Vau de Vire Society, the producers of Phantasm : Halloween at the Armory, one of the most raved about, diverse, eclectic, premiere Halloween parties in SF's illustrious history. Alas, the Armory was sold to cultureless developers, and so we're excited to partner with the Midway on this new joint in their awesome space to work our magic.

To see how Phantasm looked last year for our production style and crowd flavor -
Check this VIDEO - https://www.facebook.com/phantasmhalloween/videos/1770066953060723/

Write us for volunteer opportunities.

10. JAZZ MAFIA ACCOMPLICES - 12-9.18



JAZZ MAFIA ACCOMPLICES
Jazz Mafia Accomplices w/ Special Guests

SUNDAY, DECEMBER 9, 2018
6PM & 7:30PM (Two Shows)
@ SFJAZZ Center
201 Franklin Street
San Francisco, CA 94102

FB EVENT: https://www.facebook.com/events/2016122545266109/
BUY TICKETS: https://www.sfjazz.org/tickets/productions/jazz-mafia-accomplices/
Originally assembled for performances of The Soiled Dove, the spectacular big-top circus-meets-burlesque dinner theater show produced in collaboration with the Vau De Vire Society on the Alameda waterfront, this eclectic sextet blends hip-hop, electro-swing, and early jazz with the bawdy spirit of the Barbary Coast.

For this thrilling, dance-friendly night of sensory overload that brings together the extended Jazz Mafia family, Theis' ensemble of brass, strings, and percussion is joined by a number of guest vocalists, to be named soon!