1. DUSTFISH/ SIN ON THE BEACH - 7.14.12
2. SF ARMORY TOURS & WORKSHOPS @ KINK.COM - THIS SUMMER
3. PREPARE FOR THE PLAYA - 7.15 & 8.05.12
4. ARTCAR FEST IN RENO, NV – 7.20-21.12
5. HAMSA LILA IN BAY AREA - 7.26-28.12
6. GAIA FESTIVAL/ LAYTONVILLE, CA - 8.3-8.5.12
7. SUPERHERO STREET FAIR - 9.22.12
8. MASQUEROTICA HALLOWEEN X-TRAVAGANZA - 10.20.12
9. MAYA "MAMAFOU" LANE/ PSYCHOGROOVYTHERAPIST
10. HELP AGENT RED GET WELL!
11. HELP CHEB i SABBAH
12. HELP OSHAN FROM OM SHAN TEA HOUSE
13. BURNING MAN - '11 + '10 + '09

||||| Visit the SEA OF DREAMS Photo & Video Page |||||

1. DUSTFISH - SIN ON THE BEACH - 7.14.12

Get Tipsy with the Tiki Gods when Dustfish presents:
Sin On The Beach

Dustfish BeneFAT!

Saturday July 14, 2012
9pm - 2am at
@ Retox Lounge
628 20th Street (@ 3rd St.)
SF, CA 94107

$10
All scandalous surfers, high-flying hula-girls, on-the-make Moondoggies, and good-to-go Gidgets, are invited to wreck themselves upon the welcoming bar of Retox Lounge

Come get tangled in Mai Tais, staggered by Zombies, and support your sagging spirits with Singapore Slings. After a few rounds, fold up your tiny umbrellas and dance the night away to the exotic sounds of Bay Area's ICON, and our very good friend, DJ LAIRD (and a host of others)!

Come hungry and enjoy the Exotic Eats provided by Royal Cuisine
and wash 'em down with $2 PBRs and $4 Dustfish Playa Punch!

So dig out your snazzy, sinful, midnight sun-wear and get in the mood for Big Kahunas and Private Lagoons. If Dustfish has their way, everyone's getting leid.

Visit the Event Page for the latest info and to INVITE YOUR FRIENDS!! http://www.facebook.com/events/471894999506130/

2. SF ARMORY TOURS & WORKSHOPS @ KINK.COM

Exclusive Offers for ANON/ Masquerotica Subscribers

anonEvents has formed an alliance with the good and free-thinking folks at Kink.com to be a sponsor of it's second annual Masquerotica xxx-travagzna coming up on October 20th at the Concourse Exhibition Center. As part of the arrangement, Kink.com would like to offer you, our subscribers, occasional exclusive discounts on fun events.
Not familiar with their company? Perhaps you are a long-time fan wanting to go behind-the-scenes? Touring the SF Armory is treat for the eyes and imagination.
In line with the Kink.com Mission of "empowering people to explore their sexuality," they are launching a Workshop Series. You will now be able to get tips from the pros. Every month they will offer a new topic on how to spice things up. When has learning ever been this fun?
Ever wonder what goes on behind these castle walls? Here is your chance to Save 20% when you visit the largest porn studio in the world.
Tour the dark dungeons, the decadent Upper Floor, and everything in between. The extraordinary history of the SF Armory and the talented handiwork of the Kink.com Art Department combine to create an unforgettable experience.

Click here for tickets. Be sure to use Discount Code: Masquerotica when you purchase your tickets online.

July Workshops with Rain DeGrey:
Kink begins their workshop series with classes by Rain DeGrey, one of their most popular models. As a well-seasoned sex educator, Rain is kicking things off with her most requested topic, Strap-On 101. She will cover all the bases when it comes to strap-on play. From the basics of care and cleaning of toys and choosing the best lubes, to the wide range of exploration that is possible with strap-on play.
The workshop will include a live demo portion as well as an opportunity to ask any individual questions you may have. Click here for tickets. Be sure to use Discount Code: Workshop5 to save $5 when you purchase your tickets online.ll offer a new topic on how to spice things up. When has learning ever been this fun?
3. PREPARE FOR THE PLAYA - 7.15 & 8.05.12
Prepare for the Playa
7.15.2012 & 8.5.2012

Everything you need for the Burn!
Fashion shows, How to Clinics, Artist Benefit + so much more
Sunday, July 15th, 2012 & Sunday August 5th, 2012
with a full street festival
12pm-7pm
@Cafe Cocomo (and in front on Indiana Street)
650 Indiana Street, San Francisco (same location as Decompression)
FREE ENTRY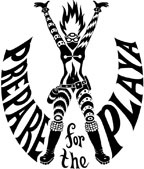 50 + Playa Specific Vendor + Designers
All handmade or designed BY BURNERS in your community!
Faux Fur Coats, Dust Masks, Goggles, El Wire and Lights, and every style of desert fashions from tribal, steampunk, furry, goth - all with utility needed for a week in the desert in 1 location for 1 day!
Each Event Features:
* Funky desert inspired Fashion Shows at 2pm & 5pm
• Playa University How to Clinics and Demonstrations on Thriving on the Playa
• Live performances by spinners, dancers and hoopers all day
• Playa Art Installations and Artist Benefit
• 'Be the Art' Max Koo Photobooth
Come spend your Sunday with us, bring your newbies and BURNgins and
get prepped, get inspired, get informed, get involved
and get ready for the BURN!
BE THE ART!! Playa wear strongly encouraged!
4. ARTCAR FEST IN RENO, NV – 7.20-21.12
ART CAR FEST July 20 and 21 st in RENO, NV

ArtCar Fest is taking a road trip to Reno and needs your support!

ArtCar Fest is an all-volunteer, artist-run event, 100% reliant on donations.

Please go to our IndieGoGo site and donate NOW!

ArtCar Fest was founded by Philo Northrup, Harrod Blank 16 years ago in San Francisco, and is directed by Emily Duffy. All of us are ArtCar artists.

Every year we bring ArtCars to schools, hospitals and museums all over the West. This year two world-class museums have invited us to Nevada to exhibit the shared history of ArtCars, Burning Man and Reno.

The National Automobile Museum in Reno, one of the best in the world, has invited us to bring ArtCars to the Friday night closing party of "Mutant Rides" on July 25th, a show about the vehicles of Burning Man. Harrod Blank, Filmmaker & ArtCar Fest Co-Founder, curated this exhibition of Mutant Vehicles and ArtCars from the Playa.

Additionally, as part of the road trip, ArtCar Fest will also be exhibiting at Reno's Nevada Museum of Art , internationally known for integrating contemporary art and the environment. On July 20th at 2pm on Saturday the Museum will present Harrod Blank's award-winning documentary about ArtCars, "Automorphosis."

ArtCars bring radical, free expression to the world 365 days per year!

It's up to us to help the artists cover their food, fuel and lodging costs.

We have some great swag to share with our supporters - previously these items were only available to the ArtCar artists themselves.

We hope you join us in supporting these artists who do so much all year long to bring joy to your commuter lanes!

Thank you! And Hope to see you in Reno July 20th & 21st !!

For more contact Philo Northrup
Co-Founder, ArtCar Fest
philo@ArtCarFest.com


5. HAMSA LILA BAY AREA - 7.26-28.12
HAMSA LILA (WEST COAST TOUR)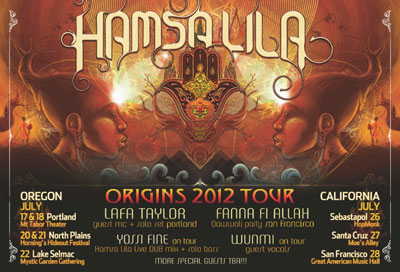 World Music groovemasters
HAMSA LILA
is coming out of a long hiatus from touring to do a short run of seven dates, from
Portland to the SF Bay Area
from
July 17th through the 28th.
The tour will feature
LIVE DUB MIXING
by talented producer and slamming bassist
YOSSI FINE
, guest Yoruba vocalist
WUNMI
(Lagos/London/NYC), the exquisite Middle-Eastern dance (plus vocals & percussion) of
ROSA ROJAS,
and kit drummer
BILLY SHOES JOHNSON
(SANTANA, MC HAMMER). The tour will be joined with the addition of
LAFA TAYLOR
(in Portland) and
Fannah-fi-Allah Qawwali Party
(in San Francisco) as openers and will come on stage with the band during their sets.
((((((((((( HAMSA LILA IN DUB )))))))))))

YOSSI FINE
(KARSH KALE, VIEUX FARKE TOURE, DAVID BOWIE, LOU REED) who produced HAMSA LILA's first studio album that hit the top of national charts in both the US and Canada, will be doing
LIVE CONCERT DUB MIXING
for Hamsa Lila. Yossi will also be doing short solo bass set openers, then joining
HAMSA LILA
on stage later each night of the tour.
Returning to the roots of their influences, HAMSA LILA has titled the tour
ORIGINS 2012,
sponsored by
NUTIVA Organic Superfoods,
a company deeply involved in educating the public about the current GMO labeling issue.
HAMSA LILA will also be donating a portion of each ticket sold to the
REX FOUNDATION
. www.rexfoundation.org
DATES:


July 17 & 18: Portland -
Mt Tabor Theater (Double Header w Lafa Taylor)

July 20: Hornings Hideout String Cheese Incident Fest (Sold Out)
July 22: Mystic Garden Gathering, Selma, Oregon
July 26: Sebastopol, HopMonk
July 27: Santa Cruz, Moe's Alley
July 28: San Francisco, Great American Music Hall
(Grand Finale w Fanna Fi Allah)

TICKETS:
http://www.hamsalila.com/origins-2012-tour
FACEBOOK
:
http://www.facebook.com/events/215745788540217/
BAND: http://www.hamsalila.com
6. THE GAIA FESTIVAL - 8.3-8.5.12
THE GAIA FESTIVAL
August 3, 4 and 5 2012

BLACK OAK RANCH
LAYTONVILLE, CA
www.thegaiafestival.com

FACEBOOK EVENT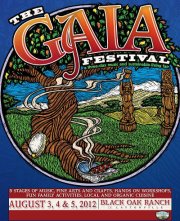 MUSICIANS:
MICHAEL FRANTI AND SPEARHEAD
SIERRA LEONE'S REFUGEE ALL ...STARS
HOT BUTTERED RUM
DUMPSTAPHUNK
BAKA BEYOND
SAMBADA
DAVID LINDLEY
AFROMASSIVE
FANNA-FI-ALLAH SUFI QAWWALI ENSEMBLE
CLAN DYKEN
PLUS MORE MORE/./.
The festival is just a three hour drive north of San Francisco and two hours south of Arcata. TGF will include a series of connected villages and stages throughout the grounds featuring a wide array of workshops and presentations on sustainable living, social & environmental activism, alternative energy, green building technology, permaculture, healing arts, world-class theater, a kids' area, plus premier onsite camping, and flowing creek, makes the annual TGF the perfect place to enjoy a weekend with friends, family, and lovers of great music. There will also be plenty of great food & crafts provided by local non-profits and artisans featuring some of the north coast's finest organic and sustainable products.
Black Oak Ranch is home to the Hog Farm and Camp Winnarainbow-a circus camp for kids and has hosted many world-class events over the years including, Earthdance – The Global Festival For Peace. TGF is fast becoming a "destination festival" for music lovers with its extensive grounds covering approximately 150 acres. This is a "green festival" and the event is powered by biodiesel generators.
FOR TICKETS AND INFORMATION: www.thegaiafestival.com
Telephone toll free at 866-558-4253 (Inticketing).
Full festival tickets include three nights of camping.
NOTE: New for this year -- NO SERVICE FEES FOR ONLINE TICKET SALES
The complete schedule and talent line-up will be announced throughout the coming months on www.thegaiafestival.com, via media e-blast, the TGF e-newsletter, Twitter and Facebook. Final line-up is subject to change.
MEDIA: To automatically receive future updated press releases, or to request media interviews, performers bios, digital images, promotional tickets, or press passes, please contact yhendrix@thegaiafestival.com or complete the official Media Request Form under Contact Us/Press on www.thegaiafestival.com
Five stages, Four directions, Three days, Too much fun, One love!
7. SUPERHERO STREET FAIR / SF - 9.22.12
3rd Annual SUPERHERO STREET FAIR
Saturday September 22, 2012
San Francisco, CA
2pm to Midnight
@ Islais Creek, newly renovated for 2012.
Entrance: Indiana @ Cesar Chavez

MUSIC..
from the likes of..
Symbiosis, Opel, Distrikt, Pink Mammoth, Forward, Compression,
Beat Church, Dancetronaughts, with nore TBA!

ZONES..
Sporting Green: Climbing Wall, Boardwalk Oasis,
Intergalactic Valley of the Vendors, Go Go Floating Barge
Circus Side Show, Eco Amusements
Kid Zone Interactive Space
PLUS..
Art Car Regalia, Super Hero Award Ceremomy, Spider Climbing Wall
Extreme Sports Demos, Floating Go Go Barge, Super Cirque Acrobats
Food, Craft and Beverage Bazzar, Supper Club Sky Lounge
Video Mapping Zones, Gallery Exhibits, Super Hero Fashion Show Contest
Family Fun Interactive Games, Eco Amusements and so much more!

WEBSITE: HTTP://SUPERHEROSF.COM
FACEBOOK: http://www.facebook.com/pages/SuperHero-Street-Fair/106650866129311


9. MAYA "MAMAFOU" LANE / PSYCHOTHERAPIST
Long-time ANON - pARTy/SCIENCE research associate & veteran choreographer/performer "Mamafou" of the Bay Area's much-beloved, Fou Fou Ha! is excited to let you know about her Affordable Psychotherapy practice in SF.

Maya is a wife and mother of two and both Burner and alternative sexuality-friendly. She works with Buddhism and Mindfulness techniques, and is a performer with a zest for life.

She is great for times of transition, navigating stuck places and helping you attain the relationships that you desire. Get more mojo in your life!

Check out http://www.mayalane.net for more info.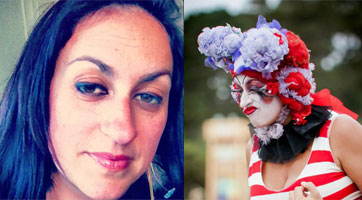 10. HELP AGENT RED GET WELL!

This past NYE, aerial artist Sarah "Agent Red" Johnston fell from her aerial hoop and sustained multiple injuries including two broken wrists and a fractured skull. Rushed from the stage to SF General, Johnston underwent three surgeries totaling 12 hours to repair the damages from the 12 foot fall. .. more>

Her many friends are reaching out to the Burning Man and West Coast & Austin Arts community to pass along her story
and to donate whatever you can directly to her hospital red-covery fund online @ http://www.agentred.net/donate



Follow the updates on Facebook @ "Get Well Red" Group

Show your support. Please donate @ www.agentred.net/donate



"Agent Red" is well-known in the Burning Man community as a world-traveled performer, aerialist and event producer. She was one of the founding members of the Lucent Dossier Experience and has performed alongside Cyndi Lauper, Flaming Lips, Devendra Banhart, Panic at the Disco, Michael Franti & Spearhead, Shpongle, Gogol Bordello, Bassnectar, Beats Antique, Helios Jive, Particle, Mutaytor, Cirque Berzerk, Vau De Vire Society and Firegroove. In addition to her performance career, she also works for Art Seen Alliance in Austin, TX where she produces Art Outside Festival, one of Texas' largest outdoor art festivals. Even with her million dollar liability policy against hurting others, she has no medical insurance for herself.
Thank you.
Give a little and it'll help a lot. This brother needs our help.

As is the case with most artists (and humans in the US, for that matter), he has no medical insurance.

http://www.indiegogo.com/Cheb-I-Sabbah-Cancer-Treatment-Fund


"Cheb I Sabbah needs our help! He is facing stage 4 cancer, and needs immediate medical treatment, but like many of us, has no medical insurance. If you can donate even $5, 10, 20 dollars...it WILL make a difference!"

Please, spread this far and wide. This member of our community is counting on us.

MORE INFO @ http://chebisabbah.org



12. HELP OSHAN FROM OM SHAN TEA HOUSE
Such a good and generous person. Such an unfair and wrong situation.
If you can, please help him out.