1. HOW WEIRD STREET FAIRE - 5.4.14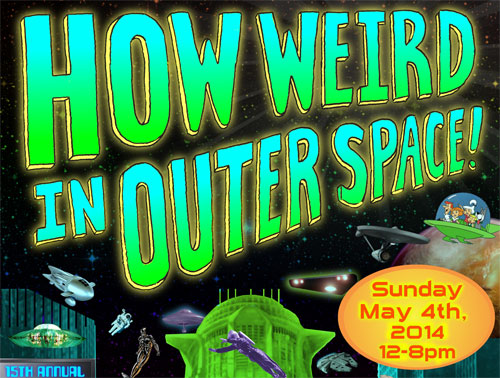 How Weird Street Faire
May 4, 2014 @ Noon
Howard & 2nd Street/ SF
Come in space costume
http://HowWeird.org/ (#hwsf)
Facebook Event: facebook.com/events/272296752929088/

Maximum fun can be achieved through acceptance and discovery of new and diverse things, as well as respect and appreciation for the unlimited creativity of the universe. In other words, be wEiRd!
Brought to you by a seriously committed bunch of alien organizers ... including anonEvents
- which has been a major co-creator of the event for the past decade.

How Weird is proud to host some of the best music and DJs on the planet for our journey into Outer Space. This year will feature stages by Enchanted Forest, Muti Music, World Famous Productions, Symbiosis Gathering, Opel, Opulent Temple, Space Monkeys, Pink Mammoth, SF House Music, Temple Nightclub, Pulse SF, Boombox Affair, Party Babas, Red Marines Festival, THINK YOU CAN DJ Game Show, the first ever National Dance Week stage, and more. Come dance to the vibrations of peace!

Dancers from around the world will showcase the many different forms of dance on a new National Dance Week stage, including the sharing of ancient and modern knowledge. Art Alley is in a new location this year, with expanded space and more art -Tehama Street, off of 2nd Street, will be filled with creativity and artistic delights, including live painting, exhibits, and interactive art murals. Vendors assembled from across the planet will offer exciting new things and tasty treats for your journey. Receive a special edition of the Magic Sticker when you give the $10 requested donation, with even more magic this year! Magic Stickers come with hundreds of dollars in savings, and many free things, plus it helps to support the faire and keep it going.
4. FOU FOU HA! - IN LIVING COLORS - 5.16-17.14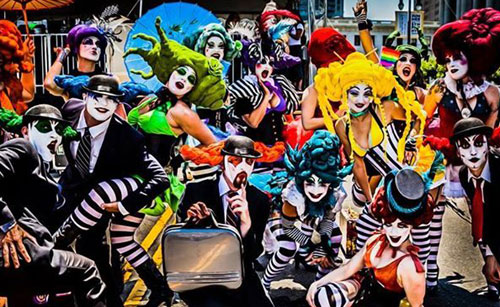 Fou Fou Ha! presents
In Living Colors

Friday, May 16th (8PM Doors/ 9PM Show)
Saturday, May 17th (8PM Doors/ 9PM Show plus after-party)
@ Inner Mission
2050 Bryant St/ / SF

BUY TICKETS HERE!
Facebook Event: facebook.com/events/295761573909821/

A full-length theater run filled with 3D animation and projection-mapped stage, an interactive audience experience, dance numbers, burlesque, B-boy battles, and dragtastic antics. Who knows, YOU might be a part of the show!

This is a world premiere of Fou Fou HA!, who have been creating animated edgy cabaret for over a decade. Part theater show with brand new numbers, part after-party with DJ Delachaux and Jason Jenkins, a celebration of living in full spectrum outside of dualistic thinking and an "only in San Francisco" tribute to the Sacred Clown.

This is a BYOB event. No alcohol will be served but a sexy Fou will serve YOUR libations if you bring them (much more cost effective).
5. LIGHTNING IN A BOTTLE - 5.22-26.14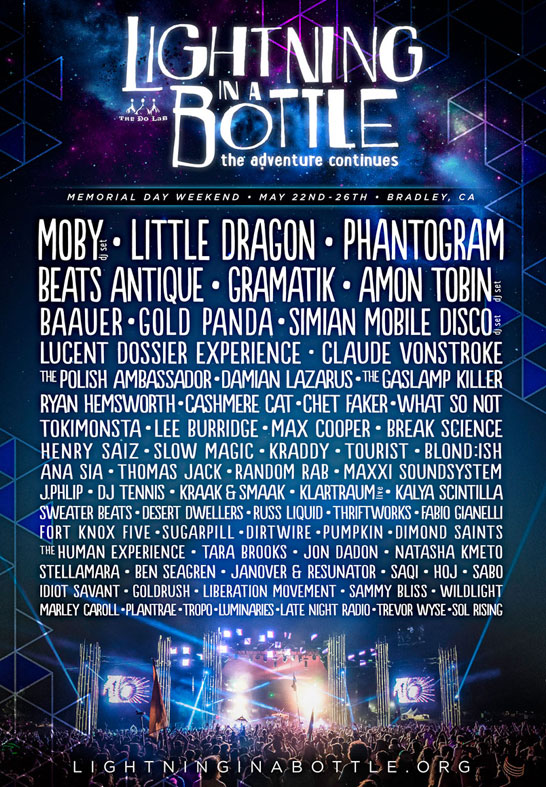 Lightning in a Bottle happens on Memorial Day Weekend, May 22nd-26th at a new location! The San Antonio Recreation Area in Bradley, California - MUCH closer to the Bay Area.

Tickets on sale now at http://lightninginabottle.org/

With a brand new location, world renowned artists & speakers, and quite possibly the best music line up in LIB history, we hope you're ready for what's awaiting you at Lightning in a Bottle 2014!

LIB on Facebook: https://www.facebook.com/LightningInaBottle