1. MASQUEROTICA - 10.25.14
2. HELL IN THE ARMORY - 10.7 - 10.31.14
3. SPOOKEASY - 10.30-11.2.14
4. THE SOILED DOVE - 12.4 - 12.13.14
5. SEA OF DREAMS NYE 2015

Sign up for mailing list
||||| Visit the 2013 SEA OF DREAMS Photo & Video Page |||||

anonEvents & Opel ...w/ Club Exotica present ...
MASQUEROTICA 2014
"Carnaval Mystique"

Saturday, October 25, 2014
@ The "S" Factory 525 Harrison Street/ SF 94105
9pm-4am (Costumes "Strongly" Encouraged!)

San Francisco's biggest and most risquι Halloween costume party is back for 2014, ripe and ready to outdo all previous years! Once again, we will be bringing together many of SF's most gifted underground artistic, creative, theatrical and sex-positive communities in an only-in-SF-stylin' celebration of art, beauty, sensuousness and thumpin' rumpin' dance!!

FULL INFO: http://masquerotica.com/
FB: https://facebook.com/Masquerotica
FB EVENT: https://www.facebook.com/events/857809414237207/
TWITTER: http://twitter.com/masquerotica
BUY TICKETS: http://bit.ly/1tQlqk3

Featuring the talents of...
• House Legend TBA October 4th!
• MAFIA KISS (Hot Cakes, UK)
• GLITTERFINGER w/ GLITTERGIRLZ
• SYD GRIS (Opel/ Opulent Temple)
• MUPPET PUNK
• DATgirl
• JOCELYN (Club Exotica)
• MATT KRAMER (Distrikt)
• EL PAPACHANGO (El Circo)
• DELACHAUX (TrapezeSF)
• DULCE VITA (Opulent Temple)
• KIMBA (Opel/ Delta 9)
• MEIKEE MAGNETIC (DarkBeautyMag)
+
• HAUS SERPENS & MasQ present "Theaterotica"... A 3-Ring Circus of Sinners ~ Un: Le Petit Morte (the Little Death) ~ Deux: The Last Temptation ~ Trois: The Gate (Choregraphed by Mojo DeVille)
Featuring Special Guests: • Psychedelic Celebrity XZIST • Sideshow Siren Francine Dead • Dangerous Cirque Sensation Snatch Adams • Lusty Lady Kitty McMuffin • Performer Pinup Sugar Cane Jane • Decadent Aerial Demoness Danielle Funkadelica • Mitchell Bros.Theater Fembot GiGi D'Amore and so many more!
+
• MR. GRIMM (Strip Dance)
• TRASHKAN MARCHINK BAND
+
• BONDAGE A GO GO presents "Chambre de Maξtre et Esclave" w/ Director Anubis & Go Go Gyration Crew
• GALLERIEROTICA - Walls of Eros featuring NANCY PEACH
+
• CLUB EXOTICA -
• ANONEVENTS -
• FOTO STILETTO
• ASIAN DIVA GIRLS LOUNGE
• FUKU HAIKU
+
• Kinky and titillating inspired performances for all persuasions, with Live Bondage Demos, Roaming Sirens & Much More!
+
A wondrous array of edgy eye-candy provided by YOU!
=-=-=-=-=-=-=-=-=-=-=-=-=-=-=-=-=-=-=-=-=-=-=-=-=-=-=
Get the BIG picture ... w/ a Bird's-Eye View in the Upstairs VIP Area!
VIP INCLUDES...
• Exclusive access to top floor loft, viewing areas to ALL stages from the ONE overlook area, an above the clouds view of EVERYTHING!
• Pumped-in sound to ALL performances from ALL stages
• VIP ONLY bar (w/ 1 top shelf drink ticket per person given upon arrival) - (And yes... more bartenders this year!)
• FREE Fruits, Sweets, Finger Foods & Aphrodisial Elixirs
• Hang out with all the headline talent & w/ the Theaterotica 3-Ring Circus of Sinners!
• FREE VIP only Coat Check (Upstairs in the VIP area this year)
• Sexy seating, booths and exclusive areas & decor
• Exclusive VIP area After Hours DJs!

VIP and all Tix on Sale NOW @ http://bit.ly/1tQlqk3
2. HELL IN THE ARMORY - 10.07-11.1.14

HELL IN THE ARMORY
Halloween's New Ghost Palace!

4 FIENDISH NIGHTS!
October 30th - November 2nd
@ 1800 Mission Street (@14th St.)
SF, CA 94103

Doors/Preshow @ 8pm - Seated Show @ 9pm

An adult themed, immersive theater/haunted house tour experience of horror
in the basement sets of the world's largest porn studio - 100 year old historic San Francisco Armory.

Come join Kink.com's celebration of Halloween and things that bump (and grind) in the night.
:: FULL INFO: http://www.hellinthearmory.com
:: FACEBOOK: facebook.com/events/757271907664616
:: BUY TICKETS: hellinthearmory.com/hell-mouth#one-way-ticket-to-hell

This is a BDSM-inspired house of terror, featuring an over the top production inclusive of contortionists, nude models body painted by the city's top talent, prosthetics, animatronics, interactive art and a large cast of characters.

Your tour of hell will be 60 minutes in length.

Tour guests will be treated to the most unusual photo opportunities of all time.

After the tour, patrons over the age of 21 will be treated to a drink token for the Armory Club (just across the street) which will feature a live closed-circuit feed of the horrors occurring at Hell in the Armory.

This 18+ event is sure to become an annual favorite to-do for fans of horror and adult content.

Come celebrate Halloween with us!


=-=-=-= HELL IN THE ARMORY =-=-=-=

SPOOKEASY!
Halloween's New Ghost Palace!

4 FIENDISH NIGHTS!
October 30th - November 2nd
@ Chinatown's Historic GREAT STAR THEATER
636 Jackson St, SF, CA 94133 ?

Doors/Preshow @ 8pm - Seated Show @ 9pm

Be POSSESSED inside a Haunted Chinatown Theater where you will delight in … - The Spookeasy Costume Ball in The CARTOON UNDERWORLD!
- A Full Vaudeville Burlesque Theater Show chock full o' SuperStars!
?- After-Life ?Dance Party ?with TRAPEZE DJ's THE KLOWN & DELACHAUX?!
- Uncover DARK SECRETS & GHOSTS with our Jr. GHOSTHUNTER app courtesy of RADIANT!
w/ Gourmet Treats & Libations… and much more TBD!

:: FULL INFO: spookeasysf.com
:: FACEBOOK: facebook.com/spookeasysf
:: BUY TICKETS: spookeasysf.com/tickets/

= Main Floor Seating starts at $49
= Preferred Seating (Best View, Gourmet Snacks!) start at $59
= Grand Tier VIP Experience with catering by Restaurante POESIA starts at $99
(Ticket prices will jump as event draws nearer. Get them now!)

=-=-=-= SPOOKEASY! =-=-=-=
4. THE SOILED DOVE - 12.4-12.13.14

From the infamous The Vau de Vire Society
Co-creators of The Edwardian Ball, New Bohemia NYE, Lagunitas Beer Circus, and a decade of San Francisco's most creatively outrageous nightlife events – comes an immersive, circus-infused, dinner-theater experience that will titillate your every sense.

=-=-=-= "THE SOILED DOVE" =-=-=-=

FACEBOOK EVENT: https://www.facebook.com/events/1465742593679251/ WEBSITE: http://vaudeviresociety.com/the-soiled-dove/

Beginning on Thursday, Decemebr 4th and continung thru Saturday, December 13th (Six Performances - Thursday, Friday & Saturday for two weekends)

Set amidst a thematic backdrop inspired by San Francisco's notorious Barbary Coast era, guests can expect an engaging evening filled with danger, decadence, world-renowned performance and a culinary spread worthy of royalty.

Guests will be treated to the finest 4-course cuisine and liberal libations
served by the most enticing courtesans on the Barbary Coast.

The Soiled Dove promises an evening of world-renowned performance accompanied by a live orchestra of epic delights, featuring members of the famed JAZZ MAFIA, REALISTIC ORCHESTRA and SQUID INC, ensembles,
with surprise and extraorindary guest cameos each evening!

You will be indulged in a world of divine decadence perfectly suited for those
in search of an adventurous escapade into San Francisco's scandalous history.

A LIMITED number of seatings are now on sale @ http://tickets.glittertix.com/events/series/THE+SOILED+DOVE

Sign up for the mailing list now for updates!

5. SEA OF DREAMS NYE 2015 - 12.30 & 12.31.14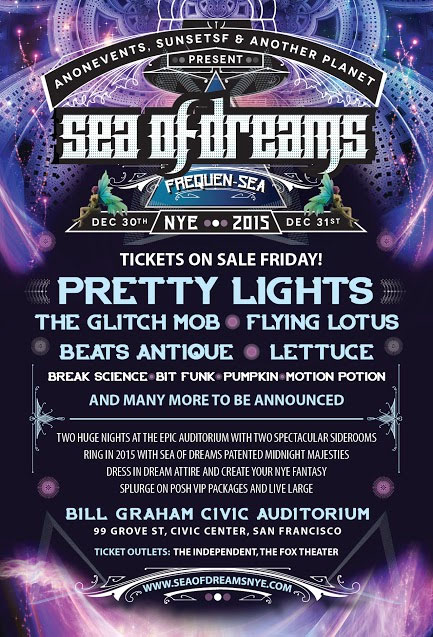 SEA OF DREAMS NYE - Initial announcement!... TWO nights @ the Bill Graham Civic Auditorium - Pretty Lights, Glitch Mob, Flying Lotus, Beats Antique, Lettuce, Break Science, Bit Funk, Pumpkin, Motion Potion & Much More TBA! - http://www.seaofdreamsnye.com/

Join our SOD newsletter for the latest info: http://ticketf.ly/1uHJ1Ao