1. SEA OF DREAMS NYE 2015 - 12.30 & 12.31.14
2. THE SOILED DOVE - 12.4 - 12.13.14
3. TRAPEZE - 12.5.14
4. WHOBILATION 2014 - 12.19.14
5. SWEET CAN'S MITTENS & MISTELTOES - 12.19 - 12.28.14
6. EDWARDIAN BALL - 1.16 & 1.17.15

Sign up for mailing list
||||| Visit the 2013 SEA OF DREAMS Photo & Video Page |||||

1. SEA OF DREAMS NYE 2015 - 12.30 & 12.31.14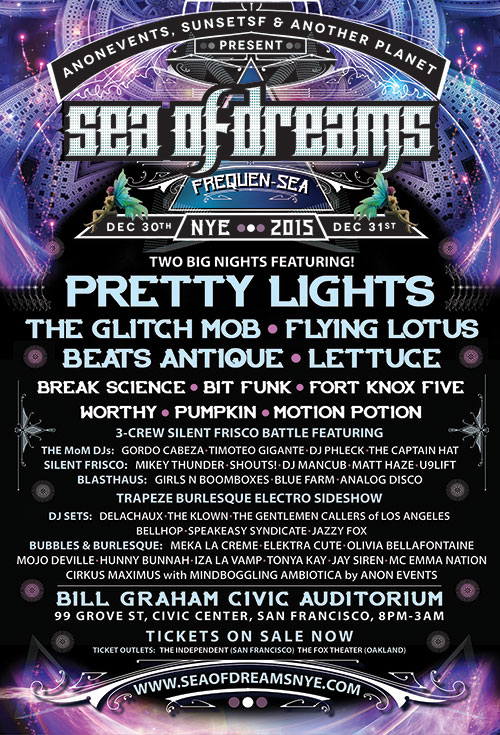 SEA OF DREAMS: Frequen-SEA New Years Eve 2015!

TWO NIGHTS!
December 30 & December 31, 2014
@ Bill Graham Civic Auditorium

Full Info: http://seaofdreamsnye.com
Facebook Event: facebook.com/events/1482561735345683/
Twitter: http://twitter.com/seaofdreamsnye
Tickets: http://bit.ly/1vjVOu3

anonEvents, SunsetSF & Another Planet Entertainment
have joined forces & invite you to celebrate the
15th anniversary of Sea of Dreams NYE
This year, we'll be doubling down on two huge nights
and the BIGGEST LINE-UP EVER!!

Headlining both nights on the mainstage is international electronic superstar
• PRETTY LIGHTS w/ massive live band) (BOTH NIGHTS!)
• THE GLITCH MOB (12.30)
• BREAK SCIENCE 12/30 Uber producer
• FLYING LOTUS (12.31)
• BEATS ANTIQUE (12.31)
• LETTUCE (12.31)

=-=- PLUS ON NYE-=-=
• Fort Knox Five (DJ Set)
• Worthy (dirtybird)
• Mikey Thunder
• M.O.M DJs: Gordo Cabeza • Timoteo Gigante • DJ Phleck • The Captain Hat
• blasthaus DJs: Girls N Boomboxes • blu farm • Analog Disko
• Silent Frisco DJs: Dj Mancub • Matt Haze • Shouts! • U9lift

Sea of Dreams CIRK AND PERFORMANCE ADDITIONS TO LINE-UP!
SEA OF DREAMS proudly unveils the renowned burlelectro–swing sideshow collective on our 3rd Stage! TRAPEZE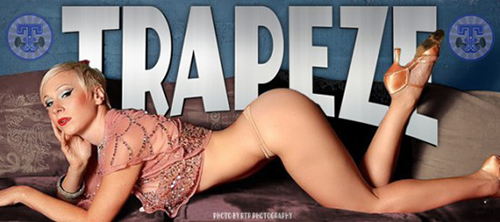 The Trapeze stage on December 31st features: DJ Sets by:
Delachaux • The Klown • Gentlemen Callers of LA • Jazzy Fox • The Bellhop Live burlesque by: Meka La Crème • Elektra Cute • Olivia Bellafontaine • Mojo Deville • Hunny Bunnah • Iza L Vamp • Tonya Kay Jay Siren & Miss Emma Nation

As always at Sea of Dreams, the venue will be packed with spectacle & performance art. Decked out VIP areas offer prime viewing, free tapas & 2 complimentary drinks. More information, tickets & VIP reservations for the West Coast's premier NYE event can be found here.
2. THE SOILED DOVE - 12.4-12.13.14

From the infamous The Vau de Vire Society
Co-creators of The Edwardian Ball, New Bohemia NYE, Lagunitas Beer Circus, and a decade of San Francisco's most creatively outrageous nightlife events – comes an immersive, circus-infused, dinner-theater experience that will titillate your every sense.

=-=-=-= "THE SOILED DOVE" =-=-=-=

FACEBOOK EVENT: https://www.facebook.com/events/1465742593679251/ WEBSITE: http://vaudeviresociety.com/the-soiled-dove/

Beginning on Thursday, Decemebr 4th and continung thru Saturday, December 13th (Six Performances - Thursday, Friday & Saturday for two weekends)

Set amidst a thematic backdrop inspired by San Francisco's notorious Barbary Coast era, guests can expect an engaging evening filled with danger, decadence, world-renowned performance and a culinary spread worthy of royalty.

Guests will be treated to the finest 4-course cuisine and liberal libations
served by the most enticing courtesans on the Barbary Coast.

The Soiled Dove promises an evening of world-renowned performance accompanied by a live orchestra of epic delights, featuring members of the famed JAZZ MAFIA, REALISTIC ORCHESTRA and SQUID INC, ensembles,
with surprise and extraorindary guest cameos each evening!

You will be indulged in a world of divine decadence perfectly suited for those
in search of an adventurous escapade into San Francisco's scandalous history.

A LIMITED number of seatings are now on sale @ http://tickets.glittertix.com/events/series/THE+SOILED+DOVE

Sign up for the mailing list now for updates!




Join SF's elegant burlectro-swing banshee as we celebrate Krampusnacht with the kind of deep, dark, hoof-footed revelry and spirit animal intoxication that would make Krampus himself blush. Equal parts Weimar cabaret and wild speakeasy rave, Trapeze lures a bevy of underworld flappers, vipers, vamps, and villains to a bass-fueled night of jazz age abandon.

Music from… BOBBY C SOUND TV, DELACHAUX, THE KLOWN, EZRA CROFT

Burlesque from… EDEN BERLIN, VIENNA LA ROUGE, MEKA LA CREME, SUMMER SAVAGE, HUNNY BUNNAH, MEE ZEE,FOU FOU HA & EMMA NATION!

$15 PRESALE / $20 DOOR
TIX: ticketfly.com/purchase/event/713945

21+ / 9:00pm- 2:00am

@ RICKSHAW STOP
155 FELL (@ VAN NESS) SAN FRANCISCO!
Full Info: http://www.trapezesf.com/

Facebook Event: facebook.com/events/882597928431425/

4. WHOBILATION 2014 - 12.19.14



14th Annual Holiday Whobilation Party at The Great Star Theatre
Barron Scott Levkoff Presents
Friday, December 19, 2014
8pm-2am
@ The Great Star Theatre
636 Jackson St
San Francisco, CA 94133

The hottest Christmas-meets-Halloween-Meets-Spookeasy-meets-Adjectives Escape Me Xmas party of the Year!

Tickets start at $20! =-=-= PASSWORD: whobilation2014
TICKETS: http://whobilation/tickets
FACEBOOK EVENT: https://www.facebook.com/events/621943231265006/
.
Featuring the Legendary Talents of:
- Hunny Bunny - IfnWhendy - David Facer - Dalyte Kodzis - Alexa Von Kickenface - Prince Xzist - Bombshell Betty - Bunny Pistol - Lulu Cachoo - Arcadia Arcane - Shadow Circus Creature Theatre - Lula Applebruise
- Krewe of KrampusBunny Pistol and many more! -
With your Host - Ebeneezer Grouch

Music by: - The Final Frontiersman (Star Trek Lounge Cover Band plays all your faves!) - DJ Neonbunny (He Glows, He hops, he's real furry!) - DJ Jazzy Fox (Spookeasy)

Also: - The Kathy Lee Gifford and Sarah Palin Memorial Hideous Holiday Sweater Contest! - Terrible Decorations! - Insanely Perky Holiday Music! - Sing-a-Long Christmas Scare-ols! - Cheer on the Cheermeister! - Nibble Really Weird Xmas Cookies and Dare to Imbibe on Bizarre Adult Holidaze Elixirs! Lula

DRESS FESTIVE!: Peppermint Stripes, Snowflakes, Snowbunnies, Snow Angels, Snow Leopards, Elves, Whoville Characters, the beloved, or loathed cartoon or claymation characters from the Holiday TV specials of your youth (or nightmares), Misfit toys, KRAMPUS, Holiday Costumes of Any Sort, Humbugs, Scrooges, Dickens Characters, did we mention Peppermint Stripes or snow-related costumes?, Kris Kringles, Santas and/or Festive Martians, Wise Men and Wiser Women, Nativity Characters, Baby Jesus, Adult Jesus, Toys, Nutcrackers, Hideous Xmas Sweaters, Cardboard and Duct Tape Chic, Blinky Lights, Christmas Ornament Accessories, etc. ALSO Classy, Sexy, Clubby, and Formal wear is welcome. No Street Clothes, Please. ...



5. SWEET CAN'S MITTENS & MISTLETOE - 12.19-28.14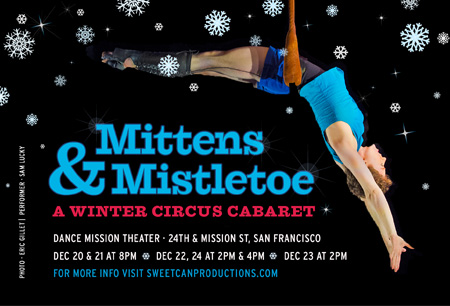 Mittens and Mistletoe: A Winter Circus Cabaret
presented by Sweet Can Productions
@ DANCE MISSION THEATER
24 & Mission/ SF

Back by popular demand - it's the annual Mittens and Mistletoe: A Winter Circus Cabaret. Come in from the cold, and join our circus family for an hour of glad tidings and cheer! Celebrate winter and the return of light with a light-hearted, charming, and funny variety program suitable for all ages. Produced and directed by San Francisco's beloved Sweet Can Productions, and starring bay area's finest circus artists, you're sure to be enchanted.

  INFO: http://www.sweetcanproductions.com/MnM.html
TICKETS: http://www.brownpapertickets.com/event/874653




6. EDWARDIAN BALL- 1.16 & 1.17.15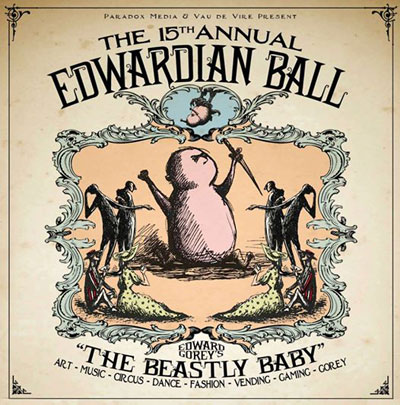 Friday Jan 16 & Saturday Jan 17, 2015 SF
Saturday Feb 7, 2015 Los Angeles
@ The Regency Ballroom
1300 Van Ness Avenue
San Francisco, CA

The Edwardian Ball is an elegant, whirlwind, turn-of-the-century festival of music, theatre, dance, fashion, circus, art, gaming, ballroom dance, vending, and the art and stories of Edward Gorey.

FULL INFO: http://edwardianball.com/
TICKETS: http://edwardianball.com/tickets/
FACEBOOK: facebook.com/TheEdwardianBall
NEWBIES GUIDE: edwardianball.com/a-newbies-guide-to-the-edwardian-ball/